An Overview of VTOL and Its Potential Applications
There's a traditional connotation with vertical takeoff and landing, or VTOL, technology – futuristic, skewed toward defense applications, and inaccessible for widespread use. However, that perception is shifting.
VTOL technology has a tremendous variety of applications in defense, intelligence, reconnaissance, mapping, and more, to be sure, but it could also play a role in the urban transit of the future.
To break down where VTOL has been and where it's headed, Voice of B2B Daniel Litwin welcomed Daniel Schuebeler, founder and CEO of Schuebeler Technologies), to this episode of the MarketScale Software & Technology podcast.
"VTOL is a very famous word in these days with all the start-ups in transportation and the air taxi market, but it has been around since people have been thinking about flying platforms and aviation, itself," Schuebeler said.
One of the main considerations in designing VTOL-capable aircraft is performance, Schuebeler said – specifically, maintaining the highest level of performance possible while still adding the flexibility VTOL allows.
One of the other most important aspects of VTOL moving forward is scalability – without the ability to effectively scale, the tech's potential in urban transit and more will be significantly hamstrung.
"It's this idea of transporting goods or people over a short range and, at the same time, being able to take off and land vertically," Schuebeler said. "Many start-ups and new companies are coming out to work on this idea. There are new technologies that make it possible. … Of course, the new autopilots that are available (and) lightweight design."
The other new technology, Schuebeler said, is electric propulsion, which is available in greater quantities and quality than ever before. Combined with the other innovations, VTOL transit may just be possible.
Follow us on social media for the latest updates in B2B!
Twitter – @MarketScale
Facebook – facebook.com/marketscale
LinkedIn – linkedin.com/company/marketscale
Latest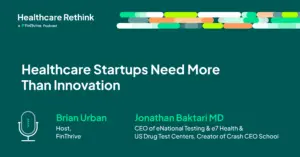 December 11, 2023
Healthcare startups need more than innovation; they require dynamic leaders willing to take these endeavors beyond the ordinary into uncharted waters to generate unparalleled success and lead the industry forward. In the latest episode of The Healthcare Rethink Podcast, host Brian Urban sits down with multifaceted healthcare leader Jonathan Baktari, MD, CEO of eNational […]
Read More