Watch: Blockchain Will Track Congo's Cobalt From Mining To Application
Blockchain – a decentralized online database in the form of a distributed ledger, can at least track some of the stages that of mining and processing cobalt. The aim is eventually to give manufacturers a way of ensuring the cobalt in lithium-ion batteries for products such as iPhones and Teslas that have not been mined by children. Blockchain technology is already used in the diamond industry. Gems are given a digital fingerprint that is then tracked by blockchain as gems are sold.
Amnesty International, which detailed the extent of child labor in cobalt mining in Congo, said it was looking at blockchain, especially with a view to tracing payments to middlemen. Blockchain-enabled supply chains will have the ability to deliver trust and transparency over the production of metals such as cobalt Harrison Mitchell, director of RCS Global.
Latest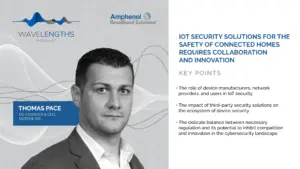 November 28, 2023
Since the introduction of smart devices, the world has increasingly become dominated by interconnected devices but IoT securitydemands are also growing. The "connected home" has shifted from what was once a futuristic concept to reality. With the global smart home market projected to reach $135.3 billion by 2025, the conversation around the security of these […]
Read More