What to Look For at The AT&T Business Summit
Business leaders have come to Dallas, Texas for this week's AT&T Business Summit. The event is a showcase and learning opportunity for professionals across a wide range of industries and this year attendees will get a firsthand look at the present and future of connective technology. This includes product demos of the latest edge solutions, IoT devices and cybersecurity systems. It will also provide an opportunity to network with high-level decision makers. The conference takes place at the Kay Bailey Hutchison Convention Center from November 4-7.
Here are three things attendees should look out for while in attendance.
World renowned speakers
This year's speaker list includes dozens of opportunities to learn from people with a wide swath of business experience. AT&T CEO Randall Stephenson and Microsoft CEO Satya Nadella are among the most notable business leaders this year. From the political spectrum, former First Lady Michelle Obama and former Secretary of State Condoleezza Rice will also take center stage.
CEOs and executives from the tech, software, financial services industries and more will participate.
Inclusion Lounge
For the second consecutive year, the AT&T Business Summit will host its Inclusion Lounge and women in leadership series. The series of sessions will include leadership coaching and an opportunity to listen to business leaders talk about company culture. Attendees will also have a chance to partake in interactive experiences.
Innovation Showcase
Product demos in manufacturing, transportation, retail, healthcare, finance and more will be on display at this year's showcase. Attendees will be able to see 5G in action, augmented reality experiences, and connect with tech experts to have their questions answered.
Latest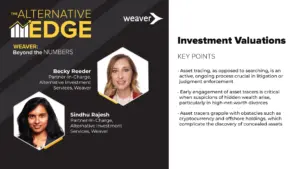 December 4, 2023
In this episode of The Alternative Edge, a Weaver: Beyond the Numbers Podcast, host Becky Reeder, an audit partner and co-leader of the alternative investments practice at Weaver, engages with Sindhu Rajesh, an Alternative Investment Services Partner with Weaver. They unpack the complexities of venture fund valuations, offering critical insights into industry dynamics and best […]
Read More