What Will Implementing Drones into Airport Operations Look Like?
Both pilots and companies are navigating a thin line between security and innovation. Host Grant Guillot talks with leaders, influencers, and experts across the drone industry to guide us through the complex web of technology and policy in the United States.
Drones in America host Grant Guillot has discussed the future of drone delivery throughout 2020 but, this week, he takes a a look at how real estate once thought not to have much value – rooftops – can now serve as "droneports."
To get a further understanding of this development and the immediate impact this will have on the drone industry, Guillot sat down with technology expert Mike DiCosola, CEO, Drone Industry Systems Corporation.
In addition to guiding Grant through how he envisions drones will capture the consumer desire for contactless delivery, he discussed how it is only a matter of time before airports are faced with the task of finding a way to incorporate drones and maximizing their benefits.

Latest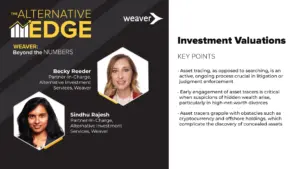 December 4, 2023
In this episode of The Alternative Edge, a Weaver: Beyond the Numbers Podcast, host Becky Reeder, an audit partner and co-leader of the alternative investments practice at Weaver, engages with Sindhu Rajesh, an Alternative Investment Services Partner with Weaver. They unpack the complexities of venture fund valuations, offering critical insights into industry dynamics and best […]
Read More