Why Robots Aren't Taking US Jobs
Elevating Manufacturing Begins with Efficiency
There's a common misconception in the manufacturing industry that automation and robots are set to sweep in and take jobs from hard-working humans.
That simply isn't the case. Robots aren't here to take jobs from Americans. In fact, they are here to make companies more efficient, which keeps jobs here in America. They're here to supplement human innovation and ingenuity.
Robots take on dull, dirty, and dangerous jobs, freeing up human labor to move upmarket and take on higher-level tasks humans excel at, such as programming.
The True Crisis in American Manufacturing
The truth is that American efficiency in manufacturing is lagging behind because of a natural inability to compete with countries with much lower labor costs.
It's also due to a lack of available skilled labor, both in general and in manufacturing. In fact, according to a 2018 report from Deloitte, a skills gap between jobs opening from retirement and new jobs created naturally could result in 2.4 million unfilled positions by 2028.
The United States cannot compete on cheap labor, and trying to will only result in continued failure and regression. However, there is a way to successfully compete in the global manufacturing space.
In order to maintain the American standard of living and re-emerge as one of the world's manufacturing powerhouses, the U.S. needs to engage in more widespread adoption of robots and automation.
To re-emerge as one of the world's manufacturing powerhouses, the U.S. needs to increase the efficiency of our manufacturing.
If our workers are being paid 10 times more than workers overseas, that time needs to be that much more valuable in terms of output. We can do this via robots and automation.
How Automation Will Drive American Manufacturing Back to the Forefront
The bottom line is this – we compete in a global market. If a U.S. manufacturer cannot provide manufacturing value to match international competitors, buyers will go elsewhere.
The use of robots and automation help protect jobs in the U.S. by making manufacturers more competitive on this global scale.
Across virtually every industry, robots have driven collaboration, automation, and precision that leads to better end results.
Consider the task of arc welding. One study found that the cost to manually weld a small part is about 84 cents, but that the same part costs Chinese manufacturers around half that. Via an initial investment in automation, costs can be driven toward a more level playing field – while also freeing human labor up to tackle higher-purpose jobs.
Human labor can also leverage collaborative robots to work safely alongside these automation tools, preserving even more manufacturing jobs.
And, because efficiency rises as costs lower and workers are set up to elevate their careers and fill more skilled roles, companies are empowered to make up for that aforementioned skill gap and deliver greater customer satisfaction.
A Renaissance in American Manufacturing on the Horizon
Robots and automation are primed to help the U.S. compete at a higher level with countries that leverage cheaper labor to engineer efficiency, and that's opening doors toward a manufacturing future that will see America begin to win again.
Robots aren't taking American jobs. They're creating and elevating them and, if leveraged properly, they will bring about a Renaissance in U.S. manufacturing.
Latest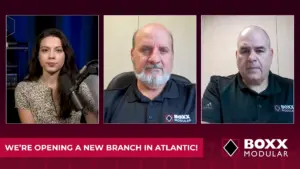 December 4, 2023
In an era where construction innovation is reshaping the industry, modular construction's growth continues to rise. In this episode of Built Modular, Boxx Modular's strategic expansion into Moncton, Atlantic Canada takes center stage. Host Gabrielle Bejarano welcomes Charles Landry and Ray Girouard to explore the implications of this venture. Bejarano, Landry, and Girouard discuss […]
Read More