AI in Scriptwriting is a Cause for Excitement, But Writer Protections are Paramount
The Writers Guild of America and the Alliance of Motion Picture and Television Producers agreement brings into sharp focus the nuanced role of Artificial Intelligence (AI) in scriptwriting. This pivotal deal, spanning three years, navigates the fine line between harnessing AI as a collaborative asset and guarding against its potential misuse. It reflects a broader industry-wide acknowledgment of the transformative potential AI holds for scriptwriting, coupled with a cautious approach to ensure that this digital evolution respects the traditional artistry and craft of storytelling.
As AI starts playing a larger role in the entertainment industry, what guidelines or principles should be established to ensure that AI's advancements enhance rather than encroach upon the creative integrity and proprietary rights of writers?
Offering insight into this complex issue, Rikki Lee Travolta, a seasoned television producer and award-winning screenwriter, advocates for a balanced approach to AI in scriptwriting. He emphasizes the importance of transparency and the need to safeguard creative rights. 
'What we want to avoid is a case of producers being dishonest with terminology… I'm excited to see where AI goes. At the same time, I am glad that measures are in place to control it and to protect the property and the creativity and the sanctity of writers," Travolta said.
Article written by Sonia Gossai
Latest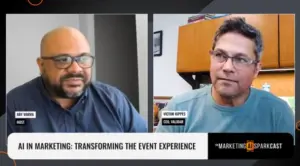 November 28, 2023
AI has been gradually changing the landscape of event technology at a very rapid pace. In an industry where staying ahead of technological trends is crucial, AI's impact on marketing and event management has become increasingly significant. As witnessed in the rise of account-based marketing and enhanced personalization, AI is effectively reshaping how events […]
Read More