"Breaking the Pocket" Inside Warren Moon's Unconventional Route to the NFL
Warren Moon's play on the field is what made him an NFL legend, but his path to get there was anything but conventional. In this clip from the next episode of Game Changers with Katie Steinberg, Moon describes the situation leading up to the 1978 NFL Draft and sheds light on his decision to start his career in Canada rather than the NFL.
Abridged Thoughts:
My mom did a great job of playing both roles as much as she possibly could, and she got me involved in sports, boy scouts, and vacation bible school to keep me around other boys, to keep me around mentors like my coaches, to be around men. That took away some of the sting of not having a dad in my life. I had all these other dads in my life who were coaches of mine and mentors. I came up in a time, especially in the area we lived, there was a lot of violence and a lot of gangs, and I could have easily gone that direction as a young boy, not really having a focus or identity or something to keep me on the straight and narrow. But, my mother was able to do that by putting me in sports.
Latest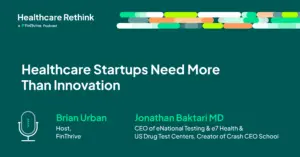 December 11, 2023
Healthcare startups need more than innovation; they require dynamic leaders willing to take these endeavors beyond the ordinary into uncharted waters to generate unparalleled success and lead the industry forward. In the latest episode of The Healthcare Rethink Podcast, host Brian Urban sits down with multifaceted healthcare leader Jonathan Baktari, MD, CEO of eNational […]
Read More