Exploring the Impact of AI in the Entertainment World on the Industry's Future
Out with the old, in with the AI: generative technology is ready to steal the show and reshape the entertainment industry in ways we've never seen before. According to International Data Corp, the media sector is witnessing an unparalleled boom in AI investments, with a whopping five-year compound annual growth rate of over 30%. Stats like these, among many others, circulating online, bring up thought-provoking questions within the entertainment industry today. For example, could AI be the driving force behind a significant shift in how entertainment is produced and consumed in the future? Does the rise of AI in the entertainment world present a challenge to artists and other creative minds in the sector?
Interestingly enough, Google Bard (the search giant's answer to Microsoft's popular Bing Chat) was recently asked about its capabilities.  The AI chatbot disclosed that generative AI thrives in "tasks that require creativity." This revelation, like others, may not be entirely comforting to artists and creative professionals in the entertainment industry; however, it could hint at how the future of entertainment will be shaped by the fusion of AI and human innovation as AI in the entertainment world continues to grow.
So, what's in store for the entertainment industry as AI takes the spotlight? Ashley Russo, Founder & President of ASR Media Productions, recognizes the undeniable impact of AI on the entertainment and news sectors. Yet, she believes that human connection is vital for truly realizing customers' visions.
Ashley Russo's Thoughts: 
"Production in both the entertainment industry and the news industry are being greatly improved by the use of AI. However, when it comes to relating to customers and creating their vision and bringing it to life, I don't think anything will ever replace people."
Article written by: Azam Saghir
Latest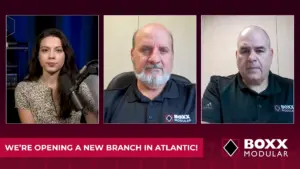 December 4, 2023
In an era where construction innovation is reshaping the industry, modular construction's growth continues to rise. In this episode of Built Modular, Boxx Modular's strategic expansion into Moncton, Atlantic Canada takes center stage. Host Gabrielle Bejarano welcomes Charles Landry and Ray Girouard to explore the implications of this venture. Bejarano, Landry, and Girouard discuss […]
Read More