How North Texas is Bursting on to the National Scene
Division I college athletics is incredibly competitive, but success today is not just measured by an end zone scoreboard.
The Business of College Sports
The business side of college sports has exploded in the 21st century, and a financial arms race has led athletic departments to be assessed by new criteria. Athletic directors across the country are under pressure from administrators and alumni alike to create sustainable programs both in the bank account and the win column.
University of North Texas Athletic Director Wren Baker has been in his chair since July 2016 and has since led the Mean Green to new heights in two important areas. To go with a nine-win football season last fall, Baker also spearheaded the most successful fundraising campaign in school history, almost doubling the previous annual high-water mark. The program also generated the second-most revenue in its conference last year.
"If you look across the board, we've set records in every metric over the last couple of years, but those are all connected. When you're setting a record number for wins, you're going to have record numbers of crowds, which means you're going to have a record number of tickets sold and revenue," Baker said.
Investing in Facilities
Expectations have never been higher for the UNT athletic department, but in college athletics, there is never room for complacency. Investment in new facilities, like the one UNT recently completed for its football, track & field and soccer teams, reinforce the health of the department.
"One tangible way to see that the University is committed to the development of the student athlete is through facilities," Baker said.
According to Baker, there are more than 300 high schools in Texas that have indoor practice facilities on their campus, so matching the experience recruits are accustomed to is important. The recently built Lovelace and McNeely Families Practice Facility is a step towards achieving this.
"It's not superficial for young people to make a college decision whether it's academically or athletically to make decisions based on facilities."
"One tangible way to see the university is committed to the development of the student athlete is through facilities. That's one reason I think the indoor practice facility will be so huge to us," Baker said. "The athletes realize that they only play here 6-7 times a year and isn't as much about us as it is about the fans. That indoor practice facility, very few fans will ever watch a game or a practice in there, it is all about the health, experience, and safety of our student athletes. I think it speaks volumes to the commitment the institution has."
Garnering National Buzz
North Texas made headlines earlier this summer when it launched a Heisman campaign for its star player, Mason Fine, called '6ForHeisman'. While most were skeptical if a player from a nontraditional conference had legitimate chance to win the award, the program saw it as a perfect marketing tool to bring more eyes to the university. The story was quickly picked up by several news outlets across the country.
The goal was to always get Seth Littrell and all of the coaching staff behind the idea to make sure it did not bring unnecessary distractions to other players, but the biggest barrier to launching the campaign was actually the quarterback himself.
Baker said that initially Fine was hesitant to agree to the hype because he did not want to make the team or the season all about him. But Baker called him into his office to explain if the  campaign could gain traction on social media it would benefit not only his chances at the NFL but would bring more attention to all of his teammates.
"The more attention and awareness we can create about him and the career he's building and the turnaround he's left at North Texas. That it benefits his teammates because they're getting the eyeballs on them during the season and it can benefit his university because people are able to see what can happen at North Texas," Baker explained what he told Fine about the campaign.
With a new football season only days away, Baker is eager for UNT to continue its ascent towards national prevalence.
Latest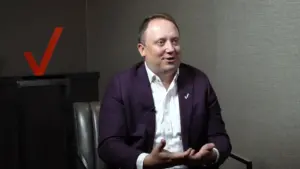 December 1, 2023
For a special episode of The Verizon Partner Network the focus was on the considerable role of partnerships in the Verizon Partner Program and the leaders shared their perspectives on the initiative. Their conversation brought about a lot of thought-providing context on the evolving telecommunications landscape. In today's era, collaboration and integration are key to […]
Read More