How Sports Teams Improve Without Taking the Field
Some have compared athletes to machines, especially when they operate with extreme precision and endurance. The simile is becoming more accurate as technology is increasingly enabling athletes to optimize their performances. Technology is changing much in the world of athletics.
Smart Equipment with Analytics
Across many different sports, smart equipment is offering real-time feed for performance tracking and enhancement. For example, there are:
Smart sensor basketballs
Smart tennis racquets
Smart running shoes
Smart baseball bats
Equipment like this allows coaches and athletes to better understand what issues may be hindering performance, where risk of injury is greatest, and how to optimize players strengths objectively. Another benefit is that data is trackable, so professionals can follow their performance through different techniques and periods, making appropriate adjustments based on the analytics.
Wearable Technology
Fitness fans around the world are using wearable tech to track things like sleeping patterns, number of steps taken and an ever-increasing number of daily data points. For athletes, wearable tech reaches the next level. For example, some trainers require athletes wear sensors to deliver information about hydration levels, heart rate and more. This helps the trainers know when to push or pull back.
Protective, Preventative, and Restorative Measures
Injuries are a common problem among athletes. That is why many technological advances in the athletics field have been focused on adding protection and preventing injuries. Smart helmets for football, for example, can help prevent head injuries and provide insight to medical professionals regarding safety performance.
For injury prevention, smart tech includes injury risk analytics programs, like what Sparta Science has developed. The Pittsburgh Steelers have teamed up with Sparta Science to have athletes' risk levels analyzed using software, a high-tech force plate for measurements, and basic exercises. Sparta CEO and Co-Founder Phil Wagner told Forbes of the results, "We generally have been able to save 18 percent of all injuries for a given NFL team."
Some sports tech is even used for restorative measures. In the case of recovery from injury for athletes, tech like Trazer is being used to assess the rehabilitation of athletes. This tech has been used by the University of Alabama, among other college athletic programs.
Data Analytics Teams
As analytics' use increases among athletes, teams and trainers, other groups are also employing data teams to sort through the immense amount of data received from training sessions, assessments, and actual games or matches. All 30 Major League Baseball organizations, for instance, now have analytics departments.
Technology for Training
To enhance players' performances, technology is now being used in training. Senaptec LLC, for instance, has developed visual training technology that improves hand-eye coordination. Professional and collegiate sports team have employed the tech. It is used for the military and to train young athletes as well. Currently, virtual reality is also common for sports training, allowing the brain to practice and reflexes to develop without taxing the body.
Upcoming Athletic TechnologyUnveilings
Recent and upcoming tech for athletics are being presented at CES Sports Zone in early 2019. The Taipei International Sporting Goods Show is also likely to boast advanced equipment and tech changes for the industry in spring 2019. Japan has also recently invested in Sports Tech Tokyo, which offers sports tech companies exposure and funding opportunities.
For the latest news, videos, and podcasts in the Sports & Entertainment Industry, be sure to subscribe to our industry publication.
Follow us on social media for the latest updates in B2B!
Twitter – @SportsEntMKSL
Facebook – facebook.com/marketscale
LinkedIn – linkedin.com/company/marketscale
Latest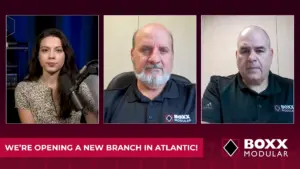 December 4, 2023
In an era where construction innovation is reshaping the industry, modular construction's growth continues to rise. In this episode of Built Modular, Boxx Modular's strategic expansion into Moncton, Atlantic Canada takes center stage. Host Gabrielle Bejarano welcomes Charles Landry and Ray Girouard to explore the implications of this venture. Bejarano, Landry, and Girouard discuss […]
Read More