NCAA NIL Deals are Officially Legal. How is the Added Layer of Competition Impacting Athletes, Programs, and Brands?
The debate about whether college athletes should be able to profit off brand representation finally came to fruition on July 1, 2021, when the NCAA decided that athletes can profit from name, image, and likeness (NIL) deals, according to Icon Source. Athletes from the Tennessee State football team and the Indiana University basketball team are jumping right into NIL deals.
What are these NIL deals looking like for athletes? Are there any potential concerns arising with college athlete recruitment? For Tennessee's Jalin Hyatt, the Hyatt Hotel chain is providing gift cards to his team's family for the Miami bowl game and will assist with visiting Hyatt locations post-season. However, some athletes may not be so happy about the NIL change because when they are only receiving a scholarship while their fellow teammates are raking in the money from brands.
How does this change in NIL deals add a layer of complexity to the collegiate sports market for both athletes and schools in a time of economic slowdown? Mark Francis, Director of Sports Business Programs at Concordia University Irvine, speaks about the NIL market, who is getting the deals, and how it relates to influencer marketing.
Mark's Thoughts
"So, I don't know that we're, given that the question, is now that the NIL is settling in and are we seeing an economic slowdown, how is this going to impact the landscape of college football deals? I think that the only change there is going to be, companies might be a little bit more selective in terms of the deals that they're giving out.
It's been very much a feeling out process over the first, you know, whatever, I guess 18 months, you know, since NIL came into, came into play and that, you know, even if we do get an economic slowdown, I don't think it's, you're not gonna see what we saw in 2008. It's not gonna be a complete meltdown, I don't believe.
And I just think maybe you, you might see companies being a little bit more careful in terms of the types of deals that they're handing out. Certainly, the size of them, you know, those kinds of things they're gonna be looking to be, you know, more sure things maybe than they anticipated in the past and not take as much risk.
Second question, are we seeing a different market develop for how I l deals are shaking out something that is more closely related to influencer marketing? I definitely think this has happened right from the beginning. If you look at who are getting these deals, it is everyone who is, not everyone, but athletes that have a, not only a prominent social footprint, social following, to the point here they are, you know, a legitimate influencer. It's really the, both the size of their following and the level of engagement they're getting. That's the big thing is brands look for that level of engagement and who's interacting and deeply are they interacting with the postings of these, of these athletes.
So, I think that the influencer piece on NIL deals has been huge since the beginning. And I think it only, it will only continue to grow that way cause that's how they, you know, these athletes are building their personal brands, is through their social footprints and largely, you know, through Instagram and TikTok, largely and you know, some on YouTube as well.
And I think we'll continue to see that, and we'll continue to see more sophisticated types of content as well. I do believe that."
Article written by Cara Schildmeyer
Latest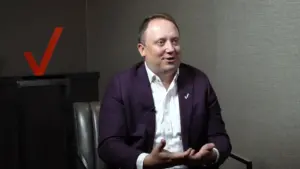 December 1, 2023
For a special episode of The Verizon Partner Network the focus was on the considerable role of partnerships in the Verizon Partner Program and the leaders shared their perspectives on the initiative. Their conversation brought about a lot of thought-providing context on the evolving telecommunications landscape. In today's era, collaboration and integration are key to […]
Read More