Overcoming Cancer and Scoring in the NFL: An Inspiring Journey
In a world where tales of overcoming adversity often take center stage, few are as inspiring as that of former NFL player Merril Hoge. His story highlights a unique intersection between battling cancer and maintaining a successful career in one of the most competitive professional sports out there. The relevance of Hoge's journey has become even more significant as conversations around athletes' health and resilience intensify. According to the American Cancer Society, approximately 1.9 million new cancer cases are expected in 2023, a number that underscores the importance of discussing this challenge.
The pressing question that we unravel in this episode is, "What does it take overcoming cancer while maintaining an accomplished NFL career, and what can Merril Hoge's story teach us about perseverance?"
In the latest episode of #WinTheDay with Chase Wasson, our host Chase sits down with Merril Hoge, an eight-time NFL veteran and a cancer survivor. They delve into Hoge's story from his humble beginnings in small state Idaho, his journey to the NFL, his cancer diagnosis, and his commitment to resilience.
In the conversation they discuss:
Hoge's early life and the importance of goal-setting from a young age
His illustrious NFL career and the life lessons he learned from his time in the locker room
His journey overcoming cancer and how he managed to maintain his NFL career during this challenging period
Merril Hoge is a former professional American football player who played as a running back for the Pittsburgh Steelers and the Chicago Bears. Born and raised in Idaho, Hoge was a standout athlete in high school before earning accolades at Idaho State University. After a successful NFL career, Hoge faced his biggest challenge when he was diagnosed with cancer. Despite this, he remained committed to his career and serves as an inspiration to many.
Latest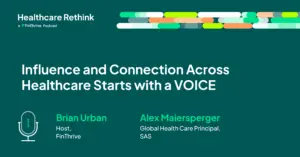 September 29, 2023
In the latest episode of the Healthcare Rethink podcast, presented by FinThrive, host Brian Urban sits down with Alex Maiersperger, the Global Principal Healthcare at SAS. Their conversation charts the role voice plays in influencing and connecting the healthcare industry. Maiersperger, who co-founded the Advancement League, shares his journey from being a healthcare optimist to […]
Read More