Technology on the Playground: PLAYTIME's Reactions Wall Offers Fun Fitness for All Ages
Nearly everyone's life has become defined by technology, though technology doesn't always have to mean being stuck sitting behind a screen. PLAYTIME has developed a product that brings technology and activity together. The PLAYTIME Reactions Wall is a heads-up technology that pushes a player's mental and physical agility while fitting seamlessly into the modern playground. This innovation demonstrates how technology is fast becoming one of the best ways to get people, especially kids, engaged and active.
A New Way to Play
There's simply no better way of getting a kid active than through the challenge of games. Video games in particular have become notorious for occupying kids' attention. Industry innovators have taken notice of these patterns and developed a new way to play, "smart play," that's as plugged-in as a game console while pushing kids out the door and into their tennis shoes. All businesses, from recreation centers to day cares, want to offer a fun and memorable experience to their guests.
Players have a blast while they develop their mental and physical agility, cultivate hand-eye coordination, and, most importantly, get plenty of exercise. Among many other studies, researchers from MIT note the importance of blending physical activity with fantasy play, creating powerful associations that keep kids exercising even when their turn at the Reactions Wall is finished up. It's not just fun for kids either. Parents can join in, as the challenge of the Reactions Wall is thrilling and fun for players of all ages.
Fun Elements Offer Two Modes of Play
What goes into the PLAYTIME Reactions Wall? LED lights that are easily visible indoors and out, narrated score reports and game-starts, and incredibly reliable electronics all come together to offer two modes of play. The Reactions Game utilizes heads-up technology to race players against the clock, pushing them to hit the illuminated button before time runs out. A Memory Game mode asks players to memorize a light and sound pattern, tapping out more and more complicated strings the longer they play. Both modes display a player's score, making friendly competition inviting and exciting. A customizable array of graphics, theme, size, and colors allows the Reactions Wall to be integrated in nearly any playground.
Integrating Technology in Play Spaces
The fact that the modern kid spends more and more of their time with technology doesn't always have to be a bad thing. Many have already discovered how integrating technology in outdoor play spaces can dramatically boost the effectiveness of both. It's becoming more important than ever to get kids outside and moving, and the PLAYTIME Reactions Wall is an effective, exciting solution for a player at any age.
To learn more about the PLAYTIME Reactions Wall and how it can enhance a play area, visit playtime.com/experiences/interactive/reactions/.
Read more at playtime.com
Latest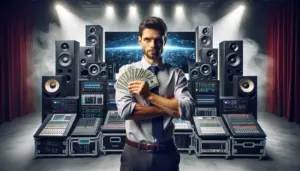 December 8, 2023
Mastering AV sales strategies in a global professional audio-visual (Pro AV) market, poised to reach $79.2 billion by 2028, requires much attention to detail. The surge in demand from corporate, government, and institutional sectors, driven by the need for enhanced productivity and efficient working environments, gives AV sales pros a lot of opportunity. In […]
Read More