The Latest Gaming Merger Firmly Establishes Dallas as an Esports Hub
Mike Rufail, founder and chief gaming officer at Envy Gaming, excitedly explained the gaming merger with OpTic Gaming and how Dallas is becoming an esports hub while talking with Host Katie Steinberg.
One big change from the merger will be the name of the team — the Texas-based Call of Duty League franchise Dallas Empire will be rebranded to OpTic Texas. Rufail believes the merge will be successful due to the two owners holding vastly different yet essential characteristics for running a lucrative business. Complimenting Hector Rodriguez, owner and CEO of OpTic, as a charismatic leader, Rufail is more attracted to the business operations, and he believes these traits "fills each other's gaps."
Jokingly, Rufail laughed, "He completes me."
However, the primary reason behind the gaming merger is to bring two highly competitive, successful, top-tier e-sports gaming companies together to round out the fans experience.
"We're trying to deliver an experience to the people who are watching us and supporting our team," he explained. "It's all for the fans."
When deciding on the rebranding of the name, Rufail suggested that the two keep OpTic's name since it has a bigger, global presence in the e-sport industry. As Texas-natives, the two also decided to include all of Texas instead of zeroing in on Dallas, hoping to make it more special for the whole state.
Rufail commented on his excitement of the attention the merger is bringing to the e-sports industry, hoping it will help engage more people and show competitors an example of what's possible.
Luckily, fans and players alike are looking forward to what's next for OpTic Texas and building a 'home' for its gaming family in Dallas.
"The fans are happy about it and they're looking forward to seeing what we're going to do together… I think they understand that we're going to give them a good experience," Rufail said.
More Like This Story:
Latest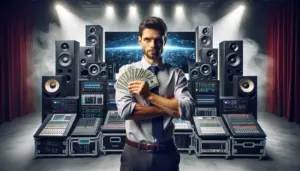 December 8, 2023
Mastering AV sales strategies in a global professional audio-visual (Pro AV) market, poised to reach $79.2 billion by 2028, requires much attention to detail. The surge in demand from corporate, government, and institutional sectors, driven by the need for enhanced productivity and efficient working environments, gives AV sales pros a lot of opportunity. In […]
Read More