Why DraftKings Chose to Double Down on Microbetting
Key Points:
Microbetting creates increased fan engagement and investment across every pitch, snap, or free throw.
While this is still in the early stages of adoption amongst bettors, the appetite and opportunity for growth exists amongst fans.
DraftKings signed a multi-year agreement with SimpleBet to use their technology to enable microbetting.
Commentary:
As sports betting has swept across the American landscape both fans and betting providers have sought out new and exciting options for wagering on games.
There is, of course, the traditional method of simply betting on the outcomes of games, but providers have increasingly looked at ways of encouraging bets that come with a more immediate payoff and sense of gratification for bettors.
The idea of betting on individual moments within a game rather than the outcome or point spread is called microbetting. SimpleBet, a B2B product development company that employs machine learning and real-time technology to make every moment of every sporting event a betting opportunity, has pioneered the technology that makes this kind of action possible.
The ability to create increased fan engagement and investment across every pitch, snap, or free throw is precisely the sort of thing that attracted DraftKings to sign a multi-year agreement with SimpleBet to incorporate their technology into the sports gaming giant's platform.
Chris Bevilacqua, the CEO of SimpleBet, joined MarketScale to discuss the partnership with DraftKings and what makes microbetting so appealing to sports fans in 2021.
Abridged Thoughts:
Over the last call it, 18 months. But I think what has since happened, largely due to COVID, I believe, is that you've seen a real acceleration on the regulatory front. More states legalizing sports betting a lot faster than most thought and then everything sort of coming back to, I would say not all the way normal, but pretty close to normal, with fans now getting back in stadiums and seasonality and sport calendars getting back on track.
So you have all those things coming together at one time, and I think you've got just a general forward thrust here, right? With the things getting back to normal and this new sports betting interactivity, all the technology enabling features around product innovation and so forth have all kind of come together and what we're seeing now and we now have been live on DraftKings for seven weeks, I believe, right?
More Stories Related To Microbetting:
Latest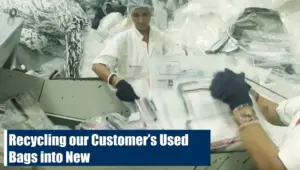 December 6, 2023
This video focuses on EcoLOK4, a groundbreaking product by CONTROLTEK that exemplifies innovation in sustainability. It highlights the process of transforming landfill waste into new deposit bags, with 90% of each bag's material being repurposed trash. This initiative not only reduces waste but also closes the sustainability loop, demonstrating CONTROLTEK's commitment to environmentally friendly […]
Read More