Discover the Truth: Finding the Right Metal Detector For Beach and Land Detecting
The name Michele Maher probably doesn't ring a bell, but metal detector enthusiasts would know her better by the nickname "Gypsy" she uses on her YouTube channel Zero Discrimination and the podcast All Metal Mode. The clever plays on words are a nod to her love for metal detecting, which led her to open a metal detector store and record videos and podcasts to help other detectorists get better results with their equipment.
On this episode of Discover the Truth, a Garrett Metal Detectors podcast, host Shelby Skrhak sits down with Gypsy, a Texas metal detectorist who'll share her adventures and recommendations for shallow-water detecting and other terrains.
Before Gypsy began metal detecting about 20 years ago, she co-owned a resale shop called Eclectic Gypsies, which stocked her finds from estate sales, thrift stores and auctions.
"Things that I considered treasures," Gypsy said.
Nowadays, she treasure-hunts in forests, beaches, creeks, mountains and rivers, discovering relics from our past and history along with modern coins and jewelry. With the new technology in metal detectors, it's possible to submerge detectors up to 10 feet deep in water for shallow-water detecting, but different detectors work better for different terrains.
"When I started, I bought the first one I'd ever seen at Radio Shack, but I bought a metal detector that doesn't work very well on the beach, and I'd just moved to a beach town," Gypsy said. "There are certain things you need to know about detectors, whether it'll work with the salt mineralization, if it's waterproof, or if it's submersible. All these questions."
By trial and error, Gypsy learned which metal detectors work best for the various types of terrain she's found in Texas.
"There are different machines that work for different climates and different areas," Gypsy said.
For example, she recommends the Garrett Sea Hunter Mark II, a pulse induction detector that works differently than other low-frequency land machines.
Listen as Gypsy offers suggestions for specific Garrett detectors for different terrains.
For the latest news, videos, and podcasts in the Sports & Entertainment Industry, be sure to subscribe to our industry publication.
Follow us on social media for the latest updates in B2B!
Twitter – @MarketScale
Facebook – facebook.com/marketscale
LinkedIn – linkedin.com/company/marketscale
Latest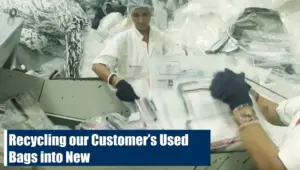 December 6, 2023
This video focuses on EcoLOK4, a groundbreaking product by CONTROLTEK that exemplifies innovation in sustainability. It highlights the process of transforming landfill waste into new deposit bags, with 90% of each bag's material being repurposed trash. This initiative not only reduces waste but also closes the sustainability loop, demonstrating CONTROLTEK's commitment to environmentally friendly […]
Read More