Alternative Fuel Trucks Are Reshaping Transportation
Drive Clean will be digging deep on innovative fossil fuel alternatives and automotive technologies shaping the clean future for transportation.
Alternative fuel trucks are changing the way the world thinks about energy and transportation. Natural gas as a fuel is quickly becoming the greener and smarter way for businesses to operate. Drive Clean host Lynn Lyon spoke with a pioneer in the field Fury Zaidi. Zaidi is the CEO and Founder of NGV Global Group, operators of a 100% alternative fuel truck fleet.
"I started the company 13 years ago in Texas, but I've had a passion for natural gas for decades, which began by converting a Dodge Dart to natural gas as an engineering student," Zaidi said.
Much has changed since then, with the technology improving and the accessibility of fueling stations more prevalent. "Fleets are adopting it. Engines are at a fourth generation. It's ready for the next step," Zaidi added.
The drive toward alternative fuels is apparent in many use cases. For example, Zaidi noted that DFW is the first carbon-neutral airport, and companies like UPS are leading the way in the private sector. This shift is helping natural gas be more mainstream. "Customers want greener solutions and to reduce their carbon footprint."
NGV Global Group is helping this become a reality with partnerships. "We are working with Amazon, which is a new player in the space. We have 10 to 15 trucks they are using to run freight," Zaidi explained.
By using natural gas, the issues around natural disasters are less impactful. "With the recent electric grid failure in Texas, hybrid vehicles couldn't charge. Also in flooding, diesel and gasoline tanks are in danger; natural gas isn't," Zaidi noted.
Follow us on social media for the latest updates in B2B!
Twitter – @MarketScale
Facebook – facebook.com/marketscale
LinkedIn – linkedin.com/company/marketscale
Latest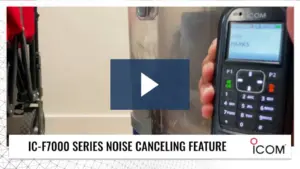 September 27, 2023
In this brief product demonstration video, ICom's IC-F7000 Series receives a mic test of its noise-canceling feature. Through the two demonstrations it is clear the IC-F7000 removes loud ambient noise for clear two-way communication.
Read More