BMW to Double Self-Driving Car Testing Fleet
Despite the death of a pedestrian by a self-driving car in Tempe, AZ, BMW will not change its emphasis on researching and producing self-driving vehicles.
Already there are observers blaming the Tempe incident on the negligence of the victim, giving BMW and other developers a rationale for staying the course in R&D for a reputable self-driving vehicle. BMW is set to double the size of its testing fleet to about 80 vehicles in 2018.
Nevertheless, the company still does not plan to launch its vehicle until 2021, believing that the software applications for a self-driving car are still not at the critical standard required to safely process the massive amount of information needed to keep the vehicle efficient and safe.
Yet on the other hand, BMW feels that a budding new era with fleets of self-driving autonomous cars will eventually replace the ride-hailing and car-sharing apps that consumers currently use in the U.S and around the world.
BMW compares the self-driving car venture with a mission to Mars, and that speaks to the seriousness of their R&D effort.
Read more at Reuters
Latest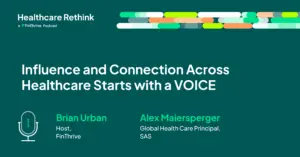 September 29, 2023
In the latest episode of the Healthcare Rethink podcast, presented by FinThrive, host Brian Urban sits down with Alex Maiersperger, the Global Principal Healthcare at SAS. Their conversation charts the role voice plays in influencing and connecting the healthcare industry. Maiersperger, who co-founded the Advancement League, shares his journey from being a healthcare optimist to […]
Read More