Can a Fuel Surcharge Help Rideshare Drivers Beat Rising Gas Prices?
Since the writing of this article, FedEx has announced it'll raise its own existing fuel surcharge as well, while Instacart joined Uber and Lyft in introducing a temporary fuel surcharge.
Gas prices remain inflated across the United States after a mix of bans on Russian oil, inflation, and slow domestic growth of oil production compounded into record highs for retail gasoline. March 11th saw a historic peak of $4.33 per gallon, and current numbers as of March 25th have only edged down to a national average of $4.24; compared to the average cost per gallon a year ago, gas has shot up nearly 150%.
Consumers are naturally frustrated with this spike, as a simultaneous rise in the cost of goods, unseen since the early 80s, inflates monthly expenditures as a whole. But perhaps the community that's feeling this increase most acutely is rideshare drivers, which not only has to contend with frequent tank fill-ups (with full-time drivers filling up daily), but a spike in car maintenance costs as well.
"Due to higher oil prices and gas prices, everything I buy to maintain my car has also gone up by anywhere between I would say 50% to 70% over the last three years since 2019," said Sergio Avedian, senior contributor for popular gig economy community publication The Rideshare Guy, as well as an Uber and Lyft driver and passenger.
The last month of gas price increases, which on average have risen nationally around 80 cents per gallon, were breakneck enough to leave rideshare drivers with little time to strategize an alternative revenue plan. Drivers turned to the platforms, Uber and Lyft, for a lifeline.
In response to this rise in costs, both of the major platforms recently announced a fuel surcharge for riders which then gets sent, in its entirety, to the driver. With this move, Uber and Lyft showed drivers that they have a willingness to implement pay-out strategies that respond to unexpected market conditions. However, many drivers are saying the surcharges' payment structures and scope just aren't comprehensive enough to relieve the thinner margins incurred from record-high gasoline.
What should rideshare companies be doing to support drivers during this time of increased costs? Is the fuel surcharge a sustainable solution to keep a workforce of professional drivers employed, engaged, and more importantly, profitable? How are drivers responding to these rising gas prices and rideshare companies' fuel surcharges, and what are the most actionable steps drivers can take to keep the money flowing while times are tough?
How the Uber and Lyft Fuel Surcharges Work
The week of March 14th, Uber and Lyft implemented a fuel surcharge on a per-ride basis to help drivers offset rising gasoline prices. The customer, or rider, is charged a small fee, and that fee is then passed on to the driver. Uber's surcharge is a tiered one; for each Uber ride, drivers will see either 45 cents or 55 cents, and for each Uber Eats delivery, drivers see either 35 cents or 45 cents. Lyft went the flat rate route, charging riders 55 cents per ride. In all cases, drivers receive 100% of the surcharge.
How this surcharge interacts with drivers' costs varies depending on factors including driver habits, vehicle specs, each city's rideshare market, and the length of each trip.
"I'm driving a 2013 Jeep Grand Cherokee, so I have an SUV, and it gets pretty decent gas mileage compared to some other vehicles. But it's not like a Toyota Prius or a Toyota Corolla, or a hybrid, or something that's getting really good gas mileage, or even just an electric vehicle altogether," said Chris Gerace, a part-time Uber and Lyft driver and a contributor for The Rideshare Guy.
These factors, along with varying gas prices across the US, have such an impact on the actual day-to-day expenses of driving for Uber that Gerace said it makes it difficult to quantify how much this surcharge will actually offset rideshare OpEx.
"Each market is going to be different depending on driving conditions, driving habits of the particular driver. If they have a heavy foot, you're going to get lower gas mileage than if you take things slower," Gerace said.
In Gerace's market, he's receiving 35 cents for any Uber Eats order he takes and 55 cents for any Uber ride he takes. Uber's surcharge went into effect on March 16th, and Lyft's went into effect starting the 21st. These benefits will last for at least several weeks; both Lyft and Uber's surcharge is set to last for the next 60 days, with a reassessment as the expiration date gets near.
High Gas Prices Are Just One Piece of the OpEx Puzzle
In theory, a fuel surcharge is a welcomed move from rideshare platforms, and if there's ever been a time to implement one, now would be it. In the five years Avedian has been driving for Uber and Lyft, even in a pricey gas state like California, he's never dealt with costs at the level we see today.
"In Los Angeles, in 2019, I paid $3.50 on average for a gallon of gas. This morning I just filled up my tank at $6 a gallon," he said.
On its face, higher gas costs mean higher operating costs for rideshare drivers; that's easy enough to understand. An important layer of context for why these costs hit rideshare drivers so much harder than other contract workers, and why platform surcharges come in handy, comes down to the way the gig economy categorizes independent contractors.
When faced with increasing raw materials costs, other independent contractors, like electricians or HVAC professionals, are able to pass on their costs to customers. Uniquely, while Uber and Lyft drivers still enjoy the freedom and flexibility of setting their own workload as independent contractors, they don't get to establish the same financial dialogue with their customers.
"As much as we're called independent contractors, we do not decide what a ride should cost. Uber & Lyft algorithms decide that for us," Avedian said.
Since Uber and Lyft drivers rely on per-mile and per-minute rates set by the gig platforms themselves, rather than deciding their own rates in accordance with current market prices, it makes the weight of rising operational expenses even heavier. The CPI for motor vehicle parts and equipment has gone up 25 points since this same time in 2019; 21 of those 25 points were just in the last year. This OpEx burden is especially acute when rates stagnate, according to Avedian.
"In 2019, a driver in Los Angeles on the UberX platform, which is the most widely used platform was getting paid 60 cents a mile and 21 cents a minute for their work. Fast forward to 2022, when everything that we purchase to maintain our cars including gasoline is up by 60-70%, in some cases more, we still get paid with the same rate. Meaning, 60 cents a mile and 21 cents a minute," he said.
The Surcharge is Fueling Mixed Emotions for Drivers
Before Uber and Lyft's announcement of a surcharge program, Avedian called for a solution just like this, citing FedEx's and UPS' similar fuel surcharge policies as precedent. Now that the hypothetical strategy has become a reality, how are drivers responding to Uber and Lyft's new policy, as well as rising expenditures in general?
The short answer is they aren't too happy with the surcharges. Though some welcome the strategy as a positive, drivers are expressing frustration with the structure and the actual pay-out that both platforms are implementing. By making the surcharge tied to each ride, rather than per mile or per minute, it introduces a lot of uncertainty around how impactful 55 cents can be in the grand scheme of day-to-day rideshare operations.
"This doesn't make sense for every ride, because short rides it might make more sense on, but long rides that could be 15 miles, 20 miles, 50 miles away, and you're still getting that 45 cents or 55 cents, doesn't make sense," Gerace said.
Based on comments The Rideshare Guy team has received across their posts, even the more gracious responses from drivers think the surcharge payment model needs tweaking.
"There are a few drivers who are saying, 'hey, it's welcomed, it's something extra, hopefully they will take a look at this and really fix it.' So you're seeing some drivers who're saying 'yeah it's good,' and then going to drivers who are saying 'we need more than this, this is not enough to offset,'" Gerace said.
Regardless of how the surcharge is received or how useful it pans out to be, preliminary surveys conducted by The Rideshare Guy team on social media show a potential drop off in the rideshare workforce because of high gas prices. When asked how current gas prices would affect workers' driving habits, 53% of drivers, or 172 respondents, said they were going to drive less or not at all; 15% indicated they were going to quit altogether.
"A lot of drivers are actually not even driving anymore unless it's really going to be worth it, or during times of promotion," Gerace said.
Survey comments from drivers reflect those sentiments. Some said that, after a few hours of driving, they "have to drop at least $60.00, which eats over 60 to 70 percent of what I earned in the driver app." Others said that a "lack of bonuses, surge and Quests make driving a money-losing prospect" in the current environment.
Respondents to the survey who said they were driving more than normal were mostly drivers who already have an EV. Feeling less of the gas price burden, these drivers can take advantage of less rideshare drivers on the road and maintain similar margins. Drivers who are facing a rising cost of living and needing more cash to pay the bills are also increasing their time on the road, even with costly gas.
Driver Strategies for Staying Profitable
So what can drivers do to recoup their lost margins? Gerace's strategy is simple: "All short trips."
"If you are driving in the suburbs mostly and it could be longer trips, go into the city center and start taking short trips, that's the easiest thing I can say when it comes down to it, because that's really what it's going to be designed mostly for," he said.
To prioritize short trips, drivers will need to reassess their coverage area and get strategic about how to stay in densely populated areas with routes that are gas mileage-friendly, or areas that on average yield less long trips. This could include downtowns with bustling night life, heading to relatively self-contained metroplexes, or even ditching rideshare in favor of food delivery gig work, which due to the nature of delivering ready-to-serve meals tend to lean on the shorter side per delivery.
Avedian had a similarly firm stance on maneuvering the current cost situation as a rideshare driver. To maintain a profit while driving Uber or Lyft, he said, "drive only when you think you're profitable."
"This isn't a public service. We're all in it for ourselves. We're competing with a guy in his car down the block. So to me, the most important thing is for the driver to educate themselves and to figure out at the end of the day, when they go home, were they profitable? If you're not profitable, don't do it," he said.
The Rideshare Guy has been following updates to the fuel surcharge and the spike in costs in general, providing many useful resources to help drivers strategize. Gabe Ets-Hokin, senior contributor for The Rideshare Guy and a veteran transportation professional with over 50,000 trips between taxicabs, Uber, Lyft and Sidecar, released an article with six other useful tips for drivers to increase their returns during high cost seasons, summarized here:
Before panicking, track your mileage and gas purchases to see where your profit margins stand. Reset your tripmeter between fill-ups, calculate weekly miles and gallons burned, and compare that with gas prices per gallon to know your intake.
Get crafty with saving money on fuel via loyalty programs, credit card fuel discounts, credit card cash-back, and more.
Make sure your car is operating at top efficiency by getting your air filter cleaned and your tires inflated and rotated. Emptying dead weight from your trunk helps too!
Reflect on your driving habits and make a change. Drive the speed limit, be cautious on your brakes, and rethink your trips strategies while on the clock.
Consider using different modes of transportation when not driving for rideshare platforms. Public transit, biking, walking, or even carpooling could keep gas prioritized for your job rather than casually getting around.
If you have the capital to spend and are locked in to rideshare driving, consider investing in a more efficient vehicle to create longterm savings. The Rideshare Guy has several guides for finding the most affordable electric vehicle for your budget.
Another reality drivers should prepare for is that if gas prices remain high, inflation keeps maintenance costs high, and driver rates don't adjust for inflation, a surcharge may not cut it in the longterm; rideshare drivers may need to look elsewhere for work. Avedian said as much, encouraging drivers to get granular on their profit margins and be honest with themselves about how much money they're actually making driving for Uber or Lyft in the current climate.
"There's no reason to depreciate your car and beat your car into pieces because you have to make some cash to pay some bills. Go get a W2 job or a regular job. There's a Great Resignation going on in the country, and there are a lot of jobs being offered. So just because it's flexible and free does not mean that you should lose money," Avedian said.
If drivers feel they don't have many other options, or are committed to making rideshare driving work as their main source of income, Avedian also recommended a few things as supplemental strategies: buying an electric vehicle, or leveraging cash-back programs.
"Drivers can switch to electric vehicles. But there's obviously a cost for that. Most electric vehicles are a lot more expensive than gas vehicles. It could be a short term resolution for a lot of drivers, they could go get a Hertz rental through Uber," he said.
"The other thing they can do is use certain debit cards and credit cards when they buy gas to get some cash back. However, most of them are at 2% levels, so gas prices have gone from $3.50 to $6. That's an increase of 70%. Well, if you get 2% back, it's better than nothing," he said. "There are certain gas apps like GetUpside you can use."
Though Gerace calls Uber and Lyft's surcharge a "step in the right direction" for supporting drivers, if he could sit down with Uber and Lyft to talk strategy, he'd ask them to take a step back and rethink their methods.
"Do something on a per mile basis, that way these longer trips are still going to be offset when it comes to this fuel surcharge," he said. "You know something like a 5 cent, a 10 cent, a 15 cent increase per mile would be much better received because it's raising the rate and it's going to help drivers, especially in those markets where they might have longer rides."
Latest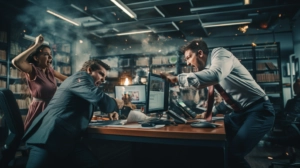 September 22, 2023
The kind of news that is delivered everyday serves as a grim reminder of the escalating violence across the U.S. Evidently, the need for proactive measures to ensure safety has never been more pressing. Such violence is not limited to any particular locale. It's actually permeating in so many different areas once considered […]
Read More