New Battery Technology Could Make EVs Cheaper and Faster to Produce
Companies in UK and the US are racing to find new breakthroughs in electrochemistry that don't rely on China's resources to create battery technology. As China currently holds 75% of the world's cobalt refining capacity and 59% of its lithium processing capacity, new methods leveraging sulphur and sodium could make batteries significantly cheaper and easier to produce.
Richard Doty, Investment Analyst at Gaintech Capital, says that this competition is good for the market and will only benefit the consumer if advancements in battery technology are made.
Richard's Thoughts
"One of the reasons we at GAINTECH love the battery technology space is that there's a diversity in chemistries and we think that that's going to lead to some great competition and actually help to avoid some of the issues around resource hoarding that we encounter with countries like China.
Another really great possibility that could come out of this for the world is that we could foresee in the future the development of regional chemistries that exist solely based on available materials that are more abundant in one area or another, which is not something that you would find with oil and gas. So in that case, you might find a chemistry that's more prevalent in Southeast Asia versus one that's in North America and it serves those areas and regions very well. And it runs their cars, runs their infrastructure, and really helps power the future. And that's why we are all in around electrification and why we love the space so much."
Latest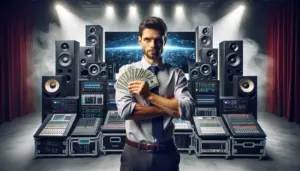 December 8, 2023
Mastering AV sales strategies in a global professional audio-visual (Pro AV) market, poised to reach $79.2 billion by 2028, requires much attention to detail. The surge in demand from corporate, government, and institutional sectors, driven by the need for enhanced productivity and efficient working environments, gives AV sales pros a lot of opportunity. In […]
Read More