Nissan CEO Makoto Uchida on Lowering Cost of Electric Vehicles
In 2019, the average cost of a new electric car was $55,600. However, according to the same data the average cost of a new car at that same point in time was only $36,600. Nissan's CEO Makoto Uchida hopes that Nissan can be a catalyst that helps make EVs more affordable for consumers. Tune in below to hear his thoughts on lowering the cost of electric vehicles in the future.
Uchida: Definitely the cost of the battery would go down, which we are making that such. Then we should not measure only by the total cost of ownership, by price, but what we provide as the service optimizing more parts between battery and power, which we have models, we will be able to achieve further economical scale. And we are working under the alliance. How we can make the same specification on the battery like a core part and to enjoy the economical scale. A lower cost will encourage an increase in sales and higher sales volume lead to further cost reduction, encouraging positive spillover effects.
Host: So if I were to get you to look into the crystal ball, when do you think it will, well, go mainstream in the us, in Europe and Asia? What will it take for that after adoption?
Uchida: It's a very good question. That is what we are trying to define ourselves as well. But what I can tell you is I think the speed of each market is different. For instance, Europe went ahead. Now you see the China, Japan is also declaring and now a US administration are changing. And how we can match our technology to the customer needs. For instance, the location was in the US. So the US market still have a lot of customers who are interested in the big size car and how we can make sure the performance of the could satisfy the customer for the total cost of the ownership. So these are the areas how we can make our competitiveness that can keep the value to the customer. And this is what we are concentrating on today.
*Bloomberg contributed to this content
—
Follow us on social media for the latest updates in B2B!
Twitter – @MarketScale
Facebook – facebook.com/marketscale
LinkedIn – linkedin.com/company/marketscale
Latest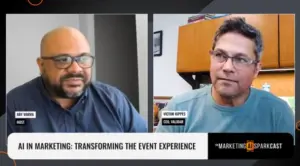 November 28, 2023
AI has been gradually changing the landscape of event technology at a very rapid pace. In an industry where staying ahead of technological trends is crucial, AI's impact on marketing and event management has become increasingly significant. As witnessed in the rise of account-based marketing and enhanced personalization, AI is effectively reshaping how events […]
Read More