Singapore Airlines Launching Blockchain-Based Frequent Flyer Wallet
Blockchain technology seems to be the season's hottest buzzword. And yet, far too much of the focus has been on the digital currency trading markets, as unbelievable spikes in value have led to profits for early investors. The technology behind these digital currencies, however, has the potential to be an absolute gamechanger for the way many companies handle their transactions and interactions with their clients.
Singapore Airlines realized the potential in this new technology and so developed a blockchain-based loyalty program, giving their customers and partners security and the freedom to spend their miles in more ways than ever. The KrisFlyer loyalty program, which previously only allowed for point redemption with the airline, either for flights or through offers with partners, will now allow customers to spend their points just like cash on everyday purchases from partnering retailers.
Singapore Airlines will be launching a mobile wallet to hold points in the coming months. Once a customer's points reach the wallet, they then act as a digital currency that the customers can spend wherever it is accepted. This results in a win for all involved. The customers can use points earned through using Singapore Airlines to buy a variety of everyday items, which in turn encourages them to return to the airline whenever they travel.
While AirFrance has previously investigated utilizing the technology to track and analyze their supply chain, Singapore Airlines is the first company to actually turn to distributed ledger technology in order to pass along loyalty program savings to their customers. If successful, these innovations could prove instrumental in making the blockchain a core element of our societal makeup.
TUI, for instance, is a hotel and tour operating company that is bit by bit moving its entire operation onto the blockchain. Since blockchain technology relies on smart contracts that record and store information in a completely decentralized way, TUI is able to open up possibilities that aren't available elsewhere unless customers are willing to give up personal information to centralized companies. According to TUI CEO Fritz Joussen, rather than simply booking a room at a hotel, blockchain contracts will allow for a simple method of booking a specific room without any human intervention. In addition, utilizing a decentralized technology like the blockchain lowers the barriers to entry that are so high in the travel industry.
Singapore Airlines believes that innovations like theirs, as well as that of TUI and AirFrance, will lead to higher customer engagement and market expansion. They will begin rolling out their KrisFlyer blockchain loyalty program in the Singapore market, and if successful, you might expect to be spending some of their miles at a local coffee shop in the near future.
Latest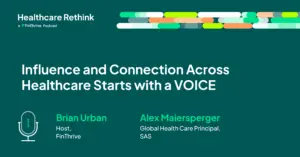 September 29, 2023
In the latest episode of the Healthcare Rethink podcast, presented by FinThrive, host Brian Urban sits down with Alex Maiersperger, the Global Principal Healthcare at SAS. Their conversation charts the role voice plays in influencing and connecting the healthcare industry. Maiersperger, who co-founded the Advancement League, shares his journey from being a healthcare optimist to […]
Read More