The Benefits of Leveraging Electric Vehicles for Fleets
Electric vehicles (EVs) are pushing even further toward the forefront of the world's consciousness – countries like Norway have pledged to phase out the sale of fossil-fuel-burning cars entirely in the coming years,  and the collective concern for the environment has spurred numerous innovations in EVs. Additionally, many state and local municipalities have EV mandates to increase the percentage of their fleets to electric.
The benefits of EVs, particularly in fleet management, aren't solely centered around sustainability, however. Fleets, both commercial and government, can leverage EVs to take advantage of a variety of benefits.
Lowering the Cost of Ownership Translates to Efficiency
By using EVs in commercial and government fleets, fleet managers can drive down the total cost of ownership of the fleet, while at the same time having a positive environmental impact.
EVs may cost more upfront but the savings over the life of the vehicle typically related to fuel and maintenance costs make up for that initial investment. Plus, dozens of new EV models from multiple manufacturers will become available in the next 24 months, further driving down costs.
You may be able to take advantage of government incentives depending on location, size and battery capacity of your purchased EV. Additionally, maintenance costs drop compared to traditional vehicles due to their differing technologies requiring minimal scheduled maintenance to their electrical systems. Careful management of battery charging, the range of your fleet's vehicles, and overall EV usage can help managers maximize cost-efficiency.
These savings translate directly into boosted efficiency, letting you utilize critical resources elsewhere and elevating your entire operation.
Efficiency can also rise in other ways. Drivers may be able to work at times that were previously off-limits due to engine noise and your fleet will be prepared for any region-specific adoption of electric-vehicle laws.
EVs Provide New and Valuable Metrics to Monitor
In addition to the aforementioned savings, you'll also receive a wealth of new information about your fleet when you make the choice to incorporate EVs.
These metrics, in addition to traditional fleet metrics you're already managing, include details about charging sessions, in-depth looks at specific vehicles' state-of-charge, and more.
By leveraging these metrics, you can more effectively plan routes that make the most of your EV's capabilities, see the long-term impact of adding EVs to your fleet in terms of emissions and fuel and energy usage, and be proactive in streamlining your operations.
ThingTech Stands Ready to Help You Take Advantage of EVs
To get the most out of the addition of EVs to your fleet, you need a partner you can trust to help you monitor the fleet and provide actionable insights regarding how efficiency and performance can be improved. Your partners should be able to not only manage a diverse, legacy portfolio of assets but be on the cutting edge of EV management, ensuring you have a holistic view of your fleet assets.
ThingTech offers electric and hybrid vehicle monitoring that helps you know what's happening with your fleet in real-time, act on those insights, and plan accordingly for the future.
ThingTech can help you monitor battery levels and efficiency while identifying optimal charging locations in addition to traditional monitoring, including start/stop trips, route compliance, maintenance items and GPS tracking.
To learn more about ThingTech's comprehensive and easy-to-use monitoring solutions, schedule your free personalized demo today.
Latest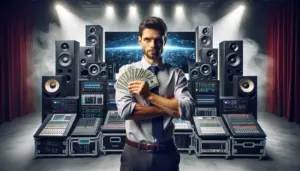 December 8, 2023
Mastering AV sales strategies in a global professional audio-visual (Pro AV) market, poised to reach $79.2 billion by 2028, requires much attention to detail. The surge in demand from corporate, government, and institutional sectors, driven by the need for enhanced productivity and efficient working environments, gives AV sales pros a lot of opportunity. In […]
Read More