The Future of Air Transportation: UAM, AAM, and eVTOL
The future of transportation will include more acronyms and more flying vehicles. UAM, AAM and eVTOL are the buzz letters of tomorrow, as Martin Cullen, Senior Manager, Business Development at TE Connectivity, explained.
"Transportation and urban mobility as we know it today are undergoing a revolution of how we get around cities and go between cities," Cullen said. "We're going to see a completely different way of going about that. And eVTOL (electric-powered, vertical-takeoff and landing) is urban mobility. It is one of the step changes in aerospace that's going to change our very way of life."
Could flying cars indeed be just around the corner? According to Cullen, the answer is yes. And TE Connectivity is doing its part to make this one-time dream a reality.
"For TE, all of these aircraft are going to use an advanced electric propulsion," Cullen said. "Motors, power distribution, positioning systems, telenetworking, the cockpit, the mission systems – this is where TE can come in. TE has the design and development of complete component solutions for high-power, high voltage, high bandwidth, and all the interconnect technologies for eVTOLs." But to get to the future, the path along the way does have its challenges.
"These aircraft have a lot of challenges we don't see in normal commercial aircraft," Cullen said.
"These aircraft are smaller, they're more sensitive to weight limits, and they have to pack in a lot more electrical equipment. So, we need to have components that are small, highly flexible, lightweight, reliable, and capable of handling harsh environments that aerospace demands."
Follow us on social media for the latest updates in B2B!
Twitter – @MarketScale
Facebook – facebook.com/marketscale
LinkedIn – linkedin.com/company/marketscale
Latest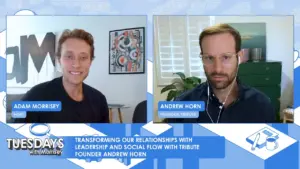 November 28, 2023
Can relationships be transformed through leadership and social flow? Navigating the intricate web of digital relationships can be a tricky proposition. Tuesdays with Morrisey's Adam Morrisey uncovers the transformative impact of emotional recognition in the workplace with Andrew Horn, the mastermind behind Tribute. This podcast edition unravels the story of a platform redefining how […]
Read More