The Role of Digital Innovation in Autonomous Driving Design: Roads, Rails, & Rides
In this latest episode of Roads, Rails, & Rides host Jeb Morris sits down with, Professor Dr. Wolfgang Gruel, Co-Director and Founder at the Institute for Mobility and Digital Innovation in Stuttgart Germany. The conversation addresses the challenges faced by automakers, how digital innovation aids development, and what the future might look like as the technology improves.
Dr. Gruel begins by describing a world in which we all rely on autonomous driving platforms, and how that will result in more attractive options for the user, as well as, expand the user base to include more rides for children and the elderly. Dr. Gruel cautions that such an expanded user base will have a negative impact on the efficiency of our roads though. More cars equal more congestion. One of the great challenges for developers is how to design these platforms as tools that help us, not hurts us.
When discussing challenges faced by the manufacturer, in getting truly AV platforms to market, Dr. Gruel describes scaling and cost as two of the largest obstacles to overcome. Legal challenges posed in getting government agency approval, operational circumstances, and liability to name a few. Financially, these cars are so expensive to design, it slows the timeline for how soon a manufacturer can get the product to market and see a return on investment. In terms of what manufacturers are doing right now, Dr. Gruel states that Uber anticipates being ten years away from having a mixed fleet of driver/self-driving platforms, PSA has discontinued work on private vehicle platforms, Olli is working on Level-3 only, and Daimler has shifted the center of their strategy to trucks.
By way of design, Dr. Gruel describes a "best tool for the best purpose" approach, not a "one size fits all" approach. Then, re-wiring the system in a way that connects various modes of transportation so that it is efficient and comfortable for the user.
Dr. Gruel goes on to describe improving the viability of public transit by introducing ideas like differently sized platforms. He specifically talks about a three-wheel, one seater design like he worked on at MIT that can be used as a pool car instead of requiring a higher number of individually owned cars. Micro transit shuttles which could take the place of larger buses for certain routes is another method which could be used to help mitigate congestion.
The conversation wraps up with the challenges of creating autonomous vehicles being perceived as safe by the public, in addition to how safe they really are. If the public does not accept the design, these new platforms will not be utilized.
The conversation with Dr. Gruel is a fantastic look at what is to come. We hope you enjoy this segment and please be sure to share it with your friends.
To keep up with news, insights, history, and more in the transportation industry, stay tuned to MarketScale's Transportation publication here.

Latest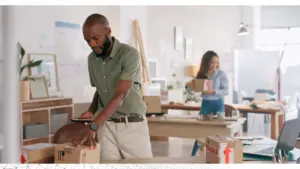 November 29, 2023
While the logistics industry often gravitates toward cutting-edge technology, Wesley Boyce, an Assistant Professor of Practice in Supply Chain Management and Analytics at the University of Nebraska-Lincoln, brings to light the enduring significance of radio communication. In a world enthralled by digital innovation, he argues that the simplicity of radios could be their greatest […]
Read More