The Three Most Important Trends Shaping the Automobile Ecosystem
"The ride-share approach to public transportation may make access more equitable in the U.S."
The auto industry is undergoing a major transformation due to a variety of factors, from COVID-19 to supply chain issues to changing perspectives on mobility. Tackling some of the most pressing trends, MarketScale TV host Daniel Litwin spoke with Carl Anthony, Managing Editor for Automoblog and AutoVision News.
First, they discussed the rental car shortage, which is the result of companies selling off fleets and manufacturing delays due to supply chain problems. "When it comes to innovation in this area, I think it will come from the supply chain side. How can the industry modify and adapt it to be more efficient so that we don't have shortages again?" Anthony said.
Travel, which is surging now, may ebb back to "normal" levels. Consumers may also consider other ways to get around, Anthony suggested, as it may be more economical to use ride-share or public transport.
Next, they discussed the autonomous car space, highlighting a new concept from Halo with remote-operated vehicles in Las Vegas, which will leverage 5G. "I think we'll see more of these robotaxi services. With 5G, the concern of engineers is the latency aspect and better connectivity. We just don't have the infrastructure yet," Anthony noted.
The final topic focused on a project in Seattle wherein a segment of the city is using an app-based, ride-share bus system. "This could be a solution to addressing the fact that public transportation in most U.S. cities doesn't serve everyone. To do this on a broad scale will require input from urban planners and civil engineers because the infrastructure will be different. Roadways now are mostly designed for personal vehicles," Anthony commented.
Follow us on social media for the latest updates in B2B!
Twitter – @MarketScale
Facebook – facebook.com/marketscale
LinkedIn – linkedin.com/company/marketscale
Latest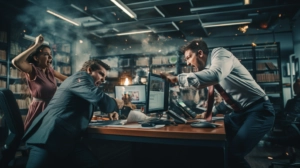 September 22, 2023
The kind of news that is delivered everyday serves as a grim reminder of the escalating violence across the U.S. Evidently, the need for proactive measures to ensure safety has never been more pressing. Such violence is not limited to any particular locale. It's actually permeating in so many different areas once considered […]
Read More