Why VP Racing Fuels Are More than Just Specialty Fuel with Bruce Hendel
Think of any motorsport series, and there's a good chance VP Racing Fuels is there.
From the drag race track to tractor pulls, VP powers some of racing's top teams. But there is far more to VP than high-performance racing fuels, said Bruce Hendel, Vice President, Sales, North America, Consumer Products and Race Fuel for VP Racing Fuels, Inc.
VP has a consumer line of small engine fuels, including solutions premixed with oil, and branded gas stations that dispense gas for the automobiles driving around cities and on highways rather than around an oval track.
"People that follow motorsports know us and have that connection and, as they learn more about us and learn what our background is, you go, 'Well, these guys are performance fuel experts,'" Hendel said.
VP showed its versatility during the coronavirus pandemic, with the production of hand sanitizer going from an idea in early March to reality by April.
After floating the idea to a retailer it works with, VP got to work producing gallon jugs of liquid sanitizer. The retailer first requested 25,000 gallons, but came back the next day looking for twice that. Later, they requested even more.
"They said, you know, we could probably use 300,000 gallons. I'm going like, 'OK, what timeframe?' 'Well, you know maybe the next three weeks," Hendel said. "I'm like, 'You're kidding me. How are we going to get that done?' But I'm going, 'Yes, we can do it!'"
And they did, converting a plant in Tennessee to production of hand sanitizer and bringing on staff to make sure the project got done. It's just another example of VP being more than just a leader in the racing fuel industry.
Latest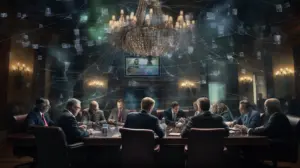 October 3, 2023
In August 2023, the National Institute of Standards of Technology (NIST) put out a request for comments on the Preliminary Update from the Internet of Things Federal Working Group (IoTFWG), which aims to provide the nation direction on how to improve IoT adoption and expand its use cases for the future of industrial, corporate, […]
Read More