Change Starts Here Short-Feature Episode Explores the Importance of Getting Comfortable Being Uncomfortable
We are creatures of habit, and thanks to technology, we have become creatures of comfort. But what happens when our comfort zones lead to a disconnection from our surroundings, intentions, and even ourselves? In the latest episode of Change Starts Here, Dustin Odham, Managing Director for the Education Division at FranklinCovey, dives deep into the topic of getting comfortable with discomfort.
Odham draws from his 16 years of experience in education and leadership roles to discuss the importance of using silence intentionally. He also shares how taking the time to be uncomfortable has helped him expand his personal horizons and achieve a deeper clarity.
"I feel so much more focused, so much more intentional," said Odham. "Do we have the awareness to enter into the wilderness, into the silence, into the isolation, and do we have the courage to stay there?"
In this episode, Odham provides practical strategies for stepping out of our comfort zones and embracing discomfort.
To tune into this episode and more, visit https://marketscale.com/shows/change-starts-here/ or listen to Change Starts Here with Dustin Odham on your preferred podcast platform.
Latest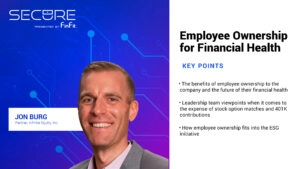 June 8, 2023
Dallas, TX – The newest podcast episode of SECURE by FinFit explores the rising trend of employee stock ownership plans (ESOPs) and how they impact employee behavior and financial resiliency. According to Gallup, 58% of Americans owned some form of stocks in 2022, but only around 4% of the U.S. population participate in ESOPs. However, […]
Read More