MarketScale Launches New Division: The Agency @MarketScale
Dallas, TX – MarketScale, a leading provider of B2B content marketing solutions, is proud to announce the launch of its newest division, The Agency @ MarketScale. This marketing-focused agency will provide custom, high-level pieces of content for clients of MarketScale.
The Agency @ MarketScale will offer a wide range of services including onsite productions, 3D videos, 2D videos, graphics and written content. These services are designed to help businesses communicate their message effectively to their target audience.
"We are thrilled to launch The Agency @ MarketScale," said Ben Maitland, CEO of MarketScale. "Our team has a wealth of experience in creating compelling content that resonates with our clients' audiences. We are excited to bring this expertise to our new division and help our client's achieve their marketing goals."
The Agency @ MarketScale will work closely with clients to understand their unique needs and develop custom solutions that meet those needs. Whether it's creating a video that showcases a product or service or developing written content that positions a business as an industry thought leader, The Agency @ MarketScale has the expertise to deliver results.
About MarketScale
MarketScale is a B2B content marketing company based in Dallas, TX. The company provides a wide range of services including podcasting, video production, written content creation and more. With a focus on delivering high-quality content that resonates with target audiences, MarketScale helps businesses achieve their marketing goals and grow their brand.
For more information about The Agency @ MarketScale or any other services offered by the company, please visit www.marketscale.com.
Contact:
Kathleen Haines
Principal
The Agency @ MarketScale
901 Main Street, Suite 5300
Dallas, TX, 75202
214-453-6814
Latest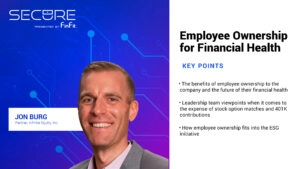 June 8, 2023
Dallas, TX – The newest podcast episode of SECURE by FinFit explores the rising trend of employee stock ownership plans (ESOPs) and how they impact employee behavior and financial resiliency. According to Gallup, 58% of Americans owned some form of stocks in 2022, but only around 4% of the U.S. population participate in ESOPs. However, […]
Read More