SafTDek Fall Protection Equipment
On today's episode of the Conversations from the Edge podcast, host Michelle Dawn Mooney speaks with Greg Crumpton, Vice President of Service Logic, Nathan Sollenberger, and Ryan Kerfien, both Co-Creators of SafTDek about the importance of fall protection in the workplace and the innovative SafTDek Condenser Railing system.
During the podcast episode titled "SafTDek Fall Protection Equipment," the guests provided valuable insights into the significance of having the right safety tools in place to prevent falls and ensure a safe work environment. They discussed how SafTDek, a customized safety platform designed to prevent falls at heights, can be a crucial tool for companies to prevent accidents and fatalities in the workplace.
Many of the accidents in the construction industry can be attributed to falls. Nathan Sollenberger emphasizes that each fall can cost a company around $100,000 and can quickly exceed a million dollars in cases of a fatality. Kerfien emphasized that having the right safety tool, such as SafTDek, can help workers focus on their tasks without worrying about risks, ultimately increasing productivity.
The guests also provided insights into the specifics of how SafTDek works and the logistics and time needed for installation. Kerfien expressed his excitement at being a Co-Creator of SafTDek and the satisfaction of creating something that makes people safer. He highlighted the need for regular inspections of air cool condensers, which SafTDek can help ensure is done safely.
Sollenberger describes the product as an excellent opportunity for people on site to do pre-safety audits. Crumpton expressed his intrigue about the concept of SafTDek and emphasized that it could optimize safety in the industry.
Kerfien emphasized that SafTDek is a tool that ensures optimum protection for workers, especially during repairs, and helps build strong relationships between contractors and their clients to avoid litigation issues. Crumpton also commended the concept of SafTDek, noting that it fills a gap in the industry and enhances safety in the workplace.
Overall, the episode provided key takeaways on the importance of fall protection in the workplace and how SafTDek can be a crucial tool for ensuring a safe work environment. For more information about SafTDek, interested parties can contact Nathan at nathan.sollenberger@hoffman-hoffman.com or visit the SafTDek website.
About Service Logic:
Service Logic is the largest privately held Energy and HVAC/Mechanical Services company in the United States. Committed to long-term client relationships, our 5,500+ employees service over 500,000,000 square feet of commercial, industrial and institutional real estate. Our coverage across the U.S. and Canada is supported by our 100+ plus office locations serving our clients' needs.
We are a leading provider of integrated services that optimize energy efficiency, comfort, productivity, health and safety. Our investment in local entrepreneurs, technology and education has created the next generation service platform for our clients and associates. We are reducing costs while increasing the value of real estate assets.
About SafTDek:
How do technicians work safely on top of some equipment? This concern is shared by building owners and safety professionals throughout our industry.
Our engineers wanted to find a sturdy, OSHA-compliant solution to keep technicians safe while they service equipment at height.
SafTDek is designed and manufactured right here in North Carolina by engineers with a safety mind-set and a focus on quality.  Because we believe the system is truly unique in the marketplace, we have submitted a patent application.
Disclaimer:
The information provided on this website is for general informational purposes only. While we make every effort to ensure that the information provided is accurate and up-to-date, we make no representations or warranties of any kind, express or implied, about the completeness, accuracy, reliability, suitability, or availability concerning the website or the information, products, services, or related graphics contained on the website for any purpose.
This press release was generated using AI. Therefore, any reliance on such information is strictly at your own risk. In no event will we be liable for any loss or damage, including, without limitation, indirect or consequential loss or damage, or any loss or damage arising from loss of data or profits arising out of, or in connection with, the use of this website.
Latest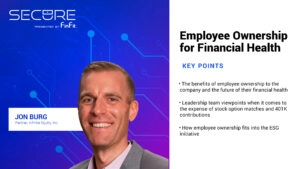 June 8, 2023
Dallas, TX – The newest podcast episode of SECURE by FinFit explores the rising trend of employee stock ownership plans (ESOPs) and how they impact employee behavior and financial resiliency. According to Gallup, 58% of Americans owned some form of stocks in 2022, but only around 4% of the U.S. population participate in ESOPs. However, […]
Read More