Unleashing Web3 Potential: Exploring NFTs, Music Distribution, and Enterprise Solutions with Patches
Dallas, TX — The latest episode of the popular podcast "Gossip About Gossip" brings together Zenobia Godschalk, SVP of Communications at Swirlds Labs, and Patches, the esteemed CEO of Turtle Moon and Co-founder of Hgraph. This captivating episode dives deep into the world of Web3 technologies, unveiling their transformative impact on NFTs, music distribution, and enterprise solutions.
Patches, a prominent figure in the blockchain space, takes listeners on an intriguing journey, exploring the real-world applications of NFTs beyond digital art. From asset tokenization to transaction transparency, Patches showcases the limitless potential of NFTs in revolutionizing various industries. Drawing from his experiences building Turtle Moon and Hgraph within the Hedera ecosystem, Patches shares valuable insights into the development of user-friendly tools and their role in driving Web3 enterprise solutions.
Latest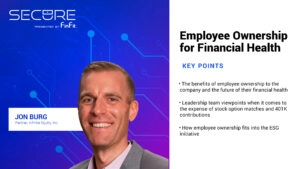 June 8, 2023
Dallas, TX – The newest podcast episode of SECURE by FinFit explores the rising trend of employee stock ownership plans (ESOPs) and how they impact employee behavior and financial resiliency. According to Gallup, 58% of Americans owned some form of stocks in 2022, but only around 4% of the U.S. population participate in ESOPs. However, […]
Read More