Volta Insite
Dallas, TX – With so much technology available to businesses, it's easy to understand why many are hesitant to adopt new solutions. However, for those in the HVAC and mechanical service industry, the benefits of integrating a system that can continuously monitor and alert potential issues before they become catastrophes are clear. And the system that does just that is Volta Insite.
In the latest episode of Conversations from the Edge with Service Logic, host Michelle Dawn Mooney speaks with Denis Kouroussis, CEO of Volta Energy, and Greg Crumpton, VP of Service Logic, about Volta Insite and how it has integrated into Service Logic's systems.
Kouroussis and Crumpton bring decades of experience to the table and are both advisers to various start-ups, including Atom Power, which Kouroussis also founded. Volta Insite is an easy-to-use, efficient solution for businesses looking to monitor their systems proactively and avoid costly failures.
To learn more about Volta Insite and its integration process, tune in to Conversations from the Edge with Service Logic on Spotify, Apple, or your preferred podcast platform.
Latest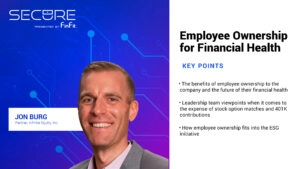 June 8, 2023
Dallas, TX – The newest podcast episode of SECURE by FinFit explores the rising trend of employee stock ownership plans (ESOPs) and how they impact employee behavior and financial resiliency. According to Gallup, 58% of Americans owned some form of stocks in 2022, but only around 4% of the U.S. population participate in ESOPs. However, […]
Read More