Why Do A&D Customers Care About Sustainability? with Ben Kraft of Clarus
On today's episode of Glass is in Session, we brought Ben Kraft, also known as the 'Glass Man Extraordinaire,' into the studio. Kraft, an A&D sales representative for Clarus, gives his sales and manufacturing insight on the reasons for and the impacts of green design on company-client relationships.
Kraft helps answer these questions as we unpack the customers in Clarus' three key industries (healthcare, higher education, and corporate America), and what is pushing them to buy green. Is it because the common culture is really becoming more interested in saving the environment, or is it from motivation to take advantage of green initiatives like LEED, BREEAM, and the Living Building Challenge? Are certifications like declare labels or environmental product declarations just a simple requirement for these customers, or do they just prefer to choose from sustainable products?
Kraft thinks the two biggest motivators are wellness and price points. Health, wellness and safety are major factors, especially within fields like healthcare and education, considering the people in those buildings are near these materials every day for extensive periods of time. Same things goes for the back end; B2B clients want to know that the products they're purchasing promote the wellness and safety of the designers and manufacturers creating them. But it's difficult to deny price point is a big motivator. Budgets are always tight, and finding a lower cost solution is always appealing. What Kraft points out, though, is that a high quality sustainable product won't come cheap, and customers aren't being dissuaded by the price.
How do we convince the client-side of the AEC industry to keep using sustainable products, how does educating the end user encourage more B2B sales, and where do Clarus' Glassboards fit into all of this? We discuss the certifications that these products have, what they mean to the companies that employ them, and what this means for our future on this episode of Glass is in Session.
For more episodes of Glass is in Session, head to Clarus' site.
Latest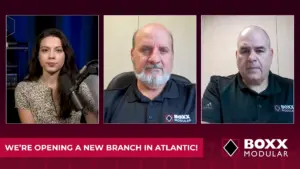 December 4, 2023
In an era where construction innovation is reshaping the industry, modular construction's growth continues to rise. In this episode of Built Modular, Boxx Modular's strategic expansion into Moncton, Atlantic Canada takes center stage. Host Gabrielle Bejarano welcomes Charles Landry and Ray Girouard to explore the implications of this venture. Bejarano, Landry, and Girouard discuss […]
Read More