AlivePromo Expands Architects' Palettes With LED
While Millennials expect technology to be ubiquitous wherever they go—from restaurants and stores to hotel and airport lobbies—they do not expect those places to be lit up like Times Square in New York or Las Vegas. Sam Rogers, CEO at AlivePromo, argues that what Millennials really want is unobtrusive technology, or technology that is there and useful, but not overpowering the space.
What he's talking about is something like a single simple LED screen on a stone wall in an otherwise dark lobby showing images of Philadelphia, a nice scene of snow to keep the summer cool. While such a lobby may not—and if it's an older building, certainly was not—designed for today's technology, Rogers says that finding a way to fit new technology into an older space is the fun part of his job. Especially if the building is a historical building and there's little that you can actually touch as far as walls and ceilings and such are concerned. That's when the creative juices really get flowing—because there's really no other choice.
Sometimes the solution is the installation of a kiosk, which in some places can serve as an idea center. Yet even these have to fit into the space architecturally, meaning it will need to have the shape and materials that allow it to look like it belongs there and is not just a piece of tech dropped in absentmindedly. Sometimes the problem is the shape of the architecture itself, though. However, even curves present no problem, as AlivePromo has the architects who can figure out how things will look in 3-D.
Rogers says that architects in the past three years have really begun to think about how technology like LED screens—whether for images, ads, or direct interaction—can fit into their designs. This means newer buildings are more likely to be prepared to provide spaces for people to interact with technology, a development that should expand audiovisual applications in architecture.
Latest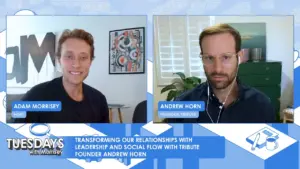 November 28, 2023
Can relationships be transformed through leadership and social flow? Navigating the intricate web of digital relationships can be a tricky proposition. Tuesdays with Morrisey's Adam Morrisey uncovers the transformative impact of emotional recognition in the workplace with Andrew Horn, the mastermind behind Tribute. This podcast edition unravels the story of a platform redefining how […]
Read More