The Construction Anomaly—Why Aren't Jobs Being Taken?
During a time of economic growth and record low unemployment, one industry seemingly immune from failure is beginning to show serious signs of decline in workforce. Construction, both commercial and residential, has seen drops in employee numbers since the recession—with 1.5 million residential workers leaving the industry. The lack of interest is misguided, however, as wages are high, and unemployment is low. Recent national surveys of construction firms show that more than 70% are highly concerned with hiring skilled, per-hour work. Add to the mix a huge increase in demand for new housing and a pro-blue collar administration, and construction spending peaked at $1 trillion in November of 2017. The construction industry's current employment trend is an anomaly, and companies find themselves pushed against the wall trying to find skilled workers to keep up with the demand.
Construction professional's incomes are typically well above the median national income range, which makes this issue even more bewildering. In this new political climate characterized by tax cuts and pro manufacturing and construction policies, these jobs should be attractive, yet many instead choose to accept standard entry level jobs that pay substantially less. Average hourly earnings for construction workers were $29.24 in 2017, according to The Associated General Contractors of America, compared to $26.63 for the private sector.
The solution to the challenge of a shrinking and aging industry might be a simple one: millennials. Many college students never consider pursuing futures in construction because they have no interest in manual labor, not realizing that the industry offers a plethora of professional opportunities that might be a good fit with their skill sets. Availability of engineering and architecture jobs is on the rise, and in a hyper-competitive post-graduation job market, workers can take jobs that require relatively little dirty work and apply various aspects of their degrees to receive significantly better benefits and wages. As the millennial population ages, housing trends gravitate toward suburbia, leading to an increase in single family investment and building, and these construction needs could be filled by a larger millennial workforce.
Recent hurricanes Harvey and Maria, some of the costliest in history, have caused the construction industry in the South to shift gears toward renovation and rebuilding, and as a result have extremely delayed deadlines for conventional builds. Work is gravely needed, and worker numbers are slim, leaving neighborhoods still damaged from disaster. The industry expects payrolls to expand in 2018, however, and 75% of firms say they will increase their headcount, up 2% from last year's survey as a result of favorable markets and pro-business policies. The CEO of AGC pressed the need for government action in implementing federally subsidized technical and trade education to help train, educate, and recruit more skilled workers in order to address the increasingly insurmountable challenge of keeping up with such high demand and such little workforce to complete it.
Latest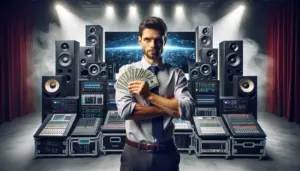 December 8, 2023
Mastering AV sales strategies in a global professional audio-visual (Pro AV) market, poised to reach $79.2 billion by 2028, requires much attention to detail. The surge in demand from corporate, government, and institutional sectors, driven by the need for enhanced productivity and efficient working environments, gives AV sales pros a lot of opportunity. In […]
Read More