Could Composites Play a Critical Role in the Restoration of the Notre Dame Cathedral?
On April 15, the world watched as the famed Notre Dame Cathedral in Paris burned. The structure sustained considerable damage, but as the smoke cleared, the country pledged its intent to rebuild with over $1 billion raised for the efforts. As the funding grows and many leading experts become involved to develop a plan to restore the cathedral, many questions are being raised about the best approach and what materials and technology to use. One key material that could be an optimal fit is lightweight, durable, and fire-resistant composites.
As the restoration process begins, an architecture competition has been announced for the spire rebuilding. Will any of these architects specify composites in their plans? Here are some reasons they should.
Composite Costs Are Highly Competitive
Composites are currently used in a variety of industries, including the automotive sector. When carbon prices dropped in 2018, the automotive industry took notice. Weighing less than steel, composites provide for lighter weight vehicles which consume less gas while reducing carbon emissions, and at a significantly lower price than their metal counterparts. However, these competitive prices don't just benefit the automotive industry. They also bring advantages to any project where composites can do the same job as metal, such as the reconstruction of Notre Dame.
Carbon Fiber is Lightweight, Reducing the Strain on Historic Structures
One major element of the Notre Dame reconstruction will be rebuilding the spire. For towering edifices such as this awe-inspiring pinnacle, weight must be displaced to reduce the strain on the foundational structure. According to CompositesWorld, when compared to steel or other heavy metals, lightweight composites can decrease structural burden while their strength and rigidity capabilities offer the superior resistance necessary to combat unremitting wind forces experienced at such lofty heights.
Composites Also Offer Fire Resistance
In addition to the reduced weight, many fiber and resin combinations are also fire resistant. A composite's fire performance is measured by different factors, such as ignition, ability to self-extinguish, flame spread, burn-through, heat release, smoke generation, and smoke toxicity. Already composed of attributes that make them fire resistant, finished composites can also be treated with flame retardants or the flame resistance of their reinforcing fibers can be increased, further improving their fireproofing capabilities. The nonflammable potentials of composites can help safeguard this historical structure against future fire risk.
Composites Already Utilized in Cathedral Construction
Composites have been used before in the construction of cathedrals, including the design of Sainte-Trinité, a Russian Orthodox cathedral in Paris topped with glass fiber-reinforced domes. By using composites, the dead load of the entire building was reduced by 80%. The five composite domes are one-fifth the weight of a conventionally constructed dome.
The determination of how the Notre Dame Cathedral will be restored is still in the beginning stages. There are many experts and stakeholders involved, and each should consider the advantages of using composites either to recreate the design to its original glory or to develop an entirely novel architectural feat to draw the masses for centuries to come.
Magnum Venus Products (MVP), a premier manufacturer of composite application equipment, has been closely following the Notre Dame restoration efforts and the conversations about the use of composites. MVP currently serves a variety of industries—automotive, aerospace, marine, oil & gas, wind turbine, and more—helping them successfully integrate composites into their manufacturing processes. With over 60 years of experience, MVP knows the power and potential for composites and has confidence that it could be critical in the restoration and future endurance of such a historically-significant structure.
Latest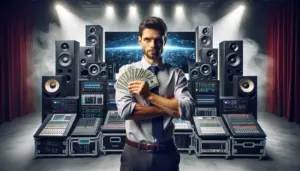 December 8, 2023
Mastering AV sales strategies in a global professional audio-visual (Pro AV) market, poised to reach $79.2 billion by 2028, requires much attention to detail. The surge in demand from corporate, government, and institutional sectors, driven by the need for enhanced productivity and efficient working environments, gives AV sales pros a lot of opportunity. In […]
Read More