Drones: Reshaping the American Construction Zone
New technology has continued its integration into the American workforce with the increasing use of drones. From the war zone to the construction zone, these unmanned, remote controlled aerial vehicles have skyrocketed in sales and popularity. The cost of drones has, in contrast, dropped significantly, thanks to the elimination of several FAA regulations, making drone ownership and commercial use far more feasible. Beyond the bewilderment of this futuristic technology is its value to the economy. According to a Goldman Sachs report, the market opportunity for drones will be $100 billion by 2020, with construction accounting for the more of that number than any industry, with $11 billion in market potential.
Whether it be maintenance, modeling, surveying or inspections- there seems to be a use for drones in nearly every aspect of the construction process. Surveying, for example, is one of the more tedious tasks involved. Drones provide an aerial view ideal for capturing detailed images of a property. Having drones already equipped with Bluetooth and Wi-Fi allows the operator to share the gathered data between project managers and builders. Much like any other piece of technology, drones come with accessories. Now, employers have access to affordable technology, like laser scanners attachable to these Unmanned Aerial Vehicles that can, with pinpoint accuracy, display levels of terrain not visible without the proper machinery.
Drones clearly are an effective tool in cost-saving and work efficiency, but they are also a welcome alternative for workers in America's deadliest industry. According to OSHA, one in five worker deaths in 2016 happened in the construction industry, primarily a result of falls. When a company is tasked with building an especially large structure or skyscraper, construction workers may be exposed to extremely dangerous working conditions. Many buildings undergo yearly inspections to asses for damages or deterioration. Drones, instead of humans, can inspect the hazardous locations in these buildings, resulting in better safety records, lower insurance rates, and a higher overall employee morale.
Drones will continue to create all kinds of tech and IT jobs previously unavailable in the construction industry. In a statement given exclusively to Market Scale, Brian Wynne, President and CEO of the Association of Unmanned Vehicle Systems International, says of a recent study, "…over the next decade, the UAS industry stands to create more than 100,000 jobs."
Implementing new software associated with drones will educate more workers, create programming jobs, and incentivize future IT students by adding a new industry in their field. All the while, employers and investors can sleep well at night, knowing their projects will be finished with greater speed, precision, and cost-efficiency, while employees can benefit from the improved safety conditions, new job opportunities, and quicker overall turnaround in completing builds. Most important of all, the market is growing at a rapid pace. Brian Wynne went on to tell Market Scale that "Under a regulatory environment that allows for expanded operations, such as flights over people or beyond line of sight, there is no doubt these numbers could go even higher and even more businesses could tap into the tremendous potential of this technology."
Now, more than ever, with a critical need for national infrastructure reform, drones could revolutionize road and bridge repair without hurting blue collar workers or the American Dream.
Latest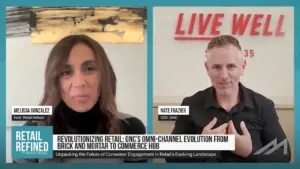 November 29, 2023
The transformation from a traditional brick-and-mortar store to an integrated commerce hub is crucial in the fast-evolving retail landscape. GNC's omni-channel evolution epitomizes this shift, blending in-person and digital experiences to meet the contemporary consumer's demands. But what does this mean for the future of retail? "Retail Refined," hosted by Melissa Gonzalez, welcomes Nate […]
Read More