Faces of Design: Life of an Architect
This article is the second in a series of profiles on architects and designers who are challenging the status quo and tackling problems worth sharing.
A Curious New World
Architects are inherently creative and curious beings – often opting to roll up their sleeves and learn new methods, technologies, or explanations for the world around them. So in 2010, when Bob Borson found himself with more spare time than he was used to (coming off the heels of the financial crisis, before the A&D industry truly rebounded), he felt compelled to catch up on the ways the internet could help him professionally.
"I remember talking to a friend who was recommending some online content," Borson said. "He told me all I had to do was subscribe to the RSS feed and the content would stream directly to me. I had no idea what that meant and felt self-conscious that the digital age would pass me by."
Borson committed himself to learning how he could use the internet to connect his love of architecture to a broader group. While RSS feeds are now a thing of the past, Borson's blog "Life of an Architect" is still going strong nearly 10 years later.
It started as a hobby and an outlet, but quickly became widely visited. In the early days, his goal was simple – sit down a few times each week and write about a challenge he was facing or something he loved about his job. There were very few venues for architects to share this sort of dialogue at the time, and his following grew quickly. Within two years, Life of an Architect was one of the most visited and influential blogs in the architecture world.
"There was no master plan for the blog, no monetization in mind," he said. "It really as just a passion project that turned into something much larger than I ever expected."
To this day, Life of an Architect features no advertising or product placements, even though it has millions of unique visitors each year. Borson did not want to be bogged down by advertisers or forced to give opinions about products or methods in which he did not believe.
We sat down with Borson in the living room of his Prestonshire project, a modern residence in Dallas that was built in 2017, to talk about his blog, the business of architecture, and the most common questions he gets from his millions of fans.
The Breadth of the Blog
When you have been blogging about the same topic for a decade, it may seem challenging to continue to offer fresh perspective. But Borson disagrees, saying "that's the beauty of architecture and design, it's always changing. The trend today will be gone tomorrow, and my peers will be challenged to overcome new obstacles."
With hundreds of thousands of unique visitors each month, Borson could continue writing the blog solely on ideas from his readers. He receives hundreds of emails (and vows to read and respond to each of them) but finds common threads throughout these correspondences.
From Blogfather to Podfather
Borson did not set out to write more than 900 posts when he started the blog. In fact, he hates writing. To this day, Borson does not love writing the posts that have made him a celebrity in the architecture industry. Hence his recent crossover to the podcasting world, where he can cherry-pick his favorite topics and host an open dialogue with Landon Williams, a colleague from his firm in Dallas.
The podcasts allow for extemporaneous riffs and conversations that steer in directions neither can predict, which Borson loves.
"When I write my blogs, I force myself to write in the manner in which I speak. I don't worry as much about grammar, punctuation, and if what I'm doing follows all the rules. For that reason, the podcast is a perfect way to continue doing what I love, engaging in a conversation."
Making the Broader Conversation Personal
Conversations are at the heart of Borson's work as an architect. He realized early in his career that the most rewarding work for him personally was residential design.
"To know your clients personally and see the impact your design can have on their lives was something I fell in love with," he said. "Take this home we are sitting in now – a family of four dreamt of what this home would look like and how it would function for years, and I was allowed to caretake that dream and bring it to life."
Caretaking dreams is something Borson takes seriously. We walked around the Prestonshire residence for nearly two hours with the architect, who pointed out each little detail and why it was designed that way. Every element, from which side of the bed the homeowners slept on to the ideal place to store their pots and pans, was taken into account. The result is a home uniquely personalized – something Borson strives to deliver to each of his clients.
"It starts with a conversation," he said. "But not just one conversation, hundreds of conversations. The average project takes about 18 months to design, and in that window of time, I get to know my clients so intimately that by the time they move into the space, I feel like I'm part of the family."
Borson shared this before walking us through the home and telling us a dozen hobbies of each child in the family and how he designed spaces to flex and change with the habits and interests of those who live there.
Advice for the Next Generation of Architects and Designers
There is no shortage of advice from one of the most prominent architect bloggers in the world. However, when pressed on things he asks of junior architects in his practice, he shared a few insights into what he looks for.
"I think all architects should spend the first several years, maybe even up to the first decade of their career practicing different disciplines of architecture. They are all so vastly different and give an architect a chance to determine what makes them feel most rewarded and engaged," he said. "I always argue you should chase those and go broad before you dive deep. There is plenty of time to become obsessed with a specific discipline, but the early stages of your career are meant for you to take big swings and learn what you love, what you hate, and figure out how to bounce back from failure early on."
The glimpse into Borson's world was full of stories of projects he is proud of and projects he cannot wait to start. But one thing is clear when you spend time with the world-renowned architect turned blogger turned podcaster – he is not running out of stories to tell anytime soon.
For the latest news, videos, and podcasts in the AEC Industry, be sure to subscribe to our industry publication.
Follow us on social media for the latest updates in B2B!
Twitter – @AECMKSL
Facebook – facebook.com/marketscale
LinkedIn – linkedin.com/company/marketscale
Latest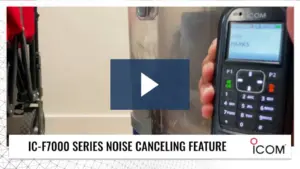 September 27, 2023
In this brief product demonstration video, ICom's IC-F7000 Series receives a mic test of its noise-canceling feature. Through the two demonstrations it is clear the IC-F7000 removes loud ambient noise for clear two-way communication.
Read More