Fully-Trained Robots on Day One
At Ergo Robotic Solutions, we design, build, sell, and rent industry leading glass installation equipment. All of our glass manipulators are built with superior precision and the utmost care, using raw parts and steel which are then welded, assembled, and painted on-site and in-house. Once the electronics and hydraulics have been installed, each machine is thoroughly tested to ensure reliable operation prior to customer shipment.
But our job doesn't end there. Whether the client decides to purchase or rent our equipment, we take great care in ensuring their employees are fully prepared to operate each system. Thus, training day is an important part of the process of using a machine from Ergo Robotic Solutions.
Training Day: What to Expect
Ergo's training day begins on the day of equipment delivery or the start date chosen by the client. Our training team goes directly to the client site to educate operators on both equipment functionality and safety. Because the Ergo Robotic training staff both build and use our machines, organizations can rest assured that their operators will receive the highest quality training from some of the foremost experts in the world.
It's important to keep training sessions small to better emphasize safe operation and accountability. For rental clients, on-site training for three employees is included in the rental fee, and for purchasing clients, on-site training for six is included in the purchase price. Training typically takes between two to four hours, but if needed, we will stay longer to ensure every trainee understands how to work with the machine; and if necessary, we can take on multiple shifts for more trainees for an additional fee. At the end of training, employees who participated are issued a certificate—these training completion documents are often needed for when safety officers ask about a user's proof of training.
Innovative Solutions for Glass Manipulation
When it comes to glass manipulation, Ergo is considered one of the leading innovators in the space. With decades of combined experience, our team regularly develops revolutionary technology to improve our line of equipment to and provides advanced capabilities to the industries we serve. Our units are engineered for safety, with cups boasting a 100% safety factor. We also offer very responsive turnaround on our glass installation machines, often shipping orders in just 24 hours.
The customization of our equipment is another differentiator. As a small U.S.-based company, we don't have multiple hurdles to overcome when providing solutions for our clients, allowing us the flexibility to customize our robots to meet unique needs. Additionally, our smaller presence translates to incredibly responsive service to those who buy or rent our machines; meaning clients who have a question will always speak with one of our knowledgeable staff members, not a recording. Further, whether rented or purchased, we provide lifetime video and phone support on our equipment, ensuring optimum serviceability.
Solving Challenges Without Disrupting Your Operations
When it comes to glass installation equipment, Ergo Robotic Solutions has the industry experience and technological and mechanical expertise to ensure quality solutions for glass manipulation. Our glass installation lifting equipment, both for below-the-hook glass installation and for working from the deck, is the best in the industry; and our exterior glazing installation machines for the inside-out approach are cutting-edge designs. Further, our equipment boasts excellent ROI, often paying for itself in its initial operation. We not only carefully design, build, test, and service all of our equipment, we thoroughly train client operators in safety and functionality, helping contractors meet and exceed their material handling and safety goals. Discover more about our solutions today.
Latest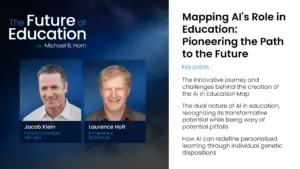 October 2, 2023
Mapping AI's role in education should be a critical step in bringing together innovative technology-based solutions with the expertise of human educators. With rapid advancements in artificial intelligence and an increased reliance on technology-driven educational solutions, the education landscape is on the brink of a significant transformation. AI promises highly personalized learning experiences, efficient administrative […]
Read More