How the Lobby Became the Crown Jewel of Corporate Office Buildings in the Digital Age
Every day, corporate lobbies are the entryway for thousands of guests, workers, vendors, and executives in their buildings. What a lobby says to a visitor is a greater reflection of the ideas and work being done. Every corporate lobby has something different to offer, from high-tech to high-class. Today, many building owners are utilizing new advances in digital signage to ensure a memorable experience for any visitor.
Video walls have become a particularly popular addition to corporate lobbies throughout the country. Also known as "wow walls", these video walls can span over a hundred feet long and provide a building with an unforgettable view. For example, Daimler Trucks North America, one of the largest commercial vehicle manufacturers in the world, installed a 110-foot long video wall comprised of 59 total screens in its corporate office. The spectacle not only grabs any onlookers' attention, but it also provides the company with a unique opportunity to display video content to entertain and inform.
Video walls like the one installed at Daimler's office can provide several important functions. With the help of cloud communications, professional content design services, and custom program integrations with RSS and social media feeds, walls like this have helped reinvent how office space is used. The capability to transform a wall from an ordinary structure to an engaging piece of art and content that can customize video content, market a brand and keep employees connected is an example of modern day AV solutions livening up corporate offices.
New wayfinding solutions are also finding applications in corporate lobbies. A problem encountered by any large building is guiding guests and occupants towards their destinations in the easiest way possible. Now, from corporate offices like Daimler's to hotels and resorts like MGM International in Las Vegas, 2-D and 3-D maps are helping employees avoid unnecessary traffic. Wayfinding solutions from digital signage provider Four Winds Interactive go even further than displaying interactive maps. As many have experienced, remembering directions can be just as challenging as locating them in the first place. As a result, FWI developed a solution that, with the help of an email or phone number, can personally send step-by-step directions to a desired destination.
The benefits of incorporating digital signage into a corporate lobby– or any lobby for that matter, are limitless. Large-scale video walls like Daimler's provide an immersive experience for anyone in the building and serves its employees with as much insight as it does entice new talent. Wayfinding and interactive directory solutions streamlining traffic, if guests can take their eyes off the stunning displays that is.
Latest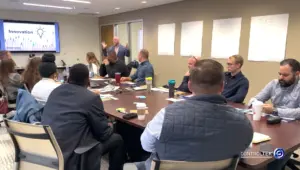 December 4, 2023
The video captures highlights from the CONTROLTEK Design Thinking Workshop specifically tailored for Burlington Stores. It shows interactive sessions, engaging group activities, and innovative brainstorming, emphasizing CONTROLTEK's commitment to developing customized retail solutions in collaboration with the Burlington Stores team.
Read More