KBIS: The Hottest 2019 Kitchen Trends
Caesarstone recently attended the Kitchen and Bath Industry Show (KBIS) and spotted many unique and exciting 2019 kitchen trends. This premier event for the kitchen and bath industry brings together thought leaders, designers, manufacturers, and more to share ideas and inspire new styles. While there was much to see, the following trends topped our list as the real eye-catchers of KBIS 2019.
New Faucet Designs
Luxus Design Build/Studio G Architecture – New American Home Remodel
One of the hottest trends at KBIS was the introduction of new faucet designs. This trend includes mixed-metal finishes, such as the fusion of both brass and chrome elements on a faucet. Mixing metals in a space is not a new trend, but has typically been used to define separate components, such as lighting, cabinet pulls, or faucets. This year, the idea has been expanded to include the mixing of metals on a single item. Other attention-grabbing finishes included matte black and gold, as well as matte nickel.
Faucets also got a new look this year, borrowing from professional kitchen design. As more homeowners choose to upgrade their kitchens to a semi-professional level with commercial-grade appliances, they want fixtures that match the upscale look. Most of the faucet designs seen at KBIS provided a scaled-back version of professional faucets with pull-down hoses and heavy nozzle sprays. Also on display—a 3-D printed faucet from DXV by American Standard that took home a Best of Show award. The design offers a unique water experience with a minimalist design.
These colorful and modern faucets are the ideal complement for a variety of kitchen countertop trends. Caesarstone's Airy Concrete, Frozen Terra, or Alpine Mist quartz countertops offer a neutral stage with urbane depth.
Bold Hues for 2019 Kitchen Trends
Puerta Bella Interior DesignNeutral kitchens are evolving into colorful ones. While color has been a mainstay of kitchen cabinets and backsplashes, now it's landed on appliances. Stainless steel was once the most sought-after finish, but the new color trend has now shifted to refrigerator and ranges in a variety of bold hues. We saw bright blues, yellows, and even reds leading the pack of 2019 kitchen colors. Although vibrantly hued appliances have had their day in and out of the spotlight in the past, this particular trend is coming back strong in 2019.
Luxury appliance manufacturer Dacor allows you to custom pick your own color, while Hestan offers 12 radiant shades to choose from. Another manufacturer allows you to customize the color of handles, providing a unique way to add color to your kitchen. Samsung also introduced a champagne-colored stainless-steel washer and dryer to bring some brightness into a sometimes drab space.
Bold kitchen colors pair nicely with 2019's textured neutral kitchen countertop trend. Caesarstone's Blizzard or Concrete surfaces provide the perfect backdrop for 2019 kitchen colors, allowing bright shades to pop while maintaining a modern, sleek appearance.
Innovative Tech in the Kitchen
dSPACE studio
Beyond design, another kitchen trend that's growing exponentially is the increased incorporation of technology in kitchen spaces. Smart homes featuring smart appliances have been on trend, but advances in technological innovation are gaining traction, providing features and functions that provide true modern convenience. 
LG
 has partnered with Amazon for Dash-equipped dishwashers, washing machines, and dryers. LG will also have an app integration for its smart oven, providing connectivity to meal delivery and prep platforms.
Also, more and more refrigerators featuring touchscreen technology continue to roll out, including the Samsung Family Hub Fridgewith a built-in LED screen. Further, fridges are now available with "flex" drawers that can be used either for refrigeration or freezing.
Caesarstone, Always on Trend
At KBIS, 2019 kitchen trends typified elegant sophistication infused with pops of color. These new trends are not only aesthetically pleasing but offer robust durability to withstand demanding kitchen use. As modern kitchen aficionados focus in on how best to incorporate this year's colorful, metal-mashing, and technological trends into their galley areas, having countertops that offer a striking, complementary framework can help to create the professional style kitchens that are so en vogue this year.
As the largest surface in the kitchen, a countertop helps set the tone of a space—but quartz surfaces from Caesarstone offer much more than ambiance. Caesarstone combines beauty and resilience to produce some of the finest quartz countertops in the industry, offering superior functionality, easy-maintenance, and unsurpassed quality to provide uncompromised performance for years to come.
Find more 2019 kitchen ideas to bring these trends to life by checking out our inspiration page.
Latest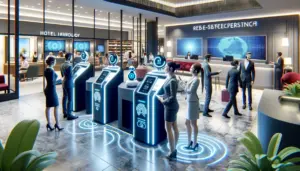 December 8, 2023
Facing critical staffing shortages, over 80% of hotels struggle to fill positions despite offering higher wages and flexible hours, as reported by a recent American Hotel & Lodging Association survey. While slightly improved since May 2022, this situation highlights a significant challenge in the hospitality industry, with housekeeping roles being the most urgently needed. […]
Read More