MarketScale AEC, 11/21/18: A Thanksgiving "Best Of"
This is The MarketScale AEC Show, hosted by Daniel Litwin, the Voice of B2B. Your weekly B2B kick-back for the best thought leadership in the industry, bringing you education, information and inspiration.

It's the holiday season! With Thanksgiving putting a little pressure on everyone's schedule, we figured this was the perfect time to give you, our audience, a charcuterie board of previous MarketScale AEC content. Plenty of one-time podcasts on our AEC publication haven't gotten the love they deserve, so we wanted to infuse them with the holiday spirit and showcase three AEC podcasts that encapsulate some of the most important trends, troubles and talents in the industry. Enjoy a dive into the growing success of the pivot door in the United States, the ecological struggle of Japan's construction industry, and what an interactive city of the future may look and feel like.
AESTHETICS AND KINETICS: THE PIVOT DOOR IS HERE TO STAY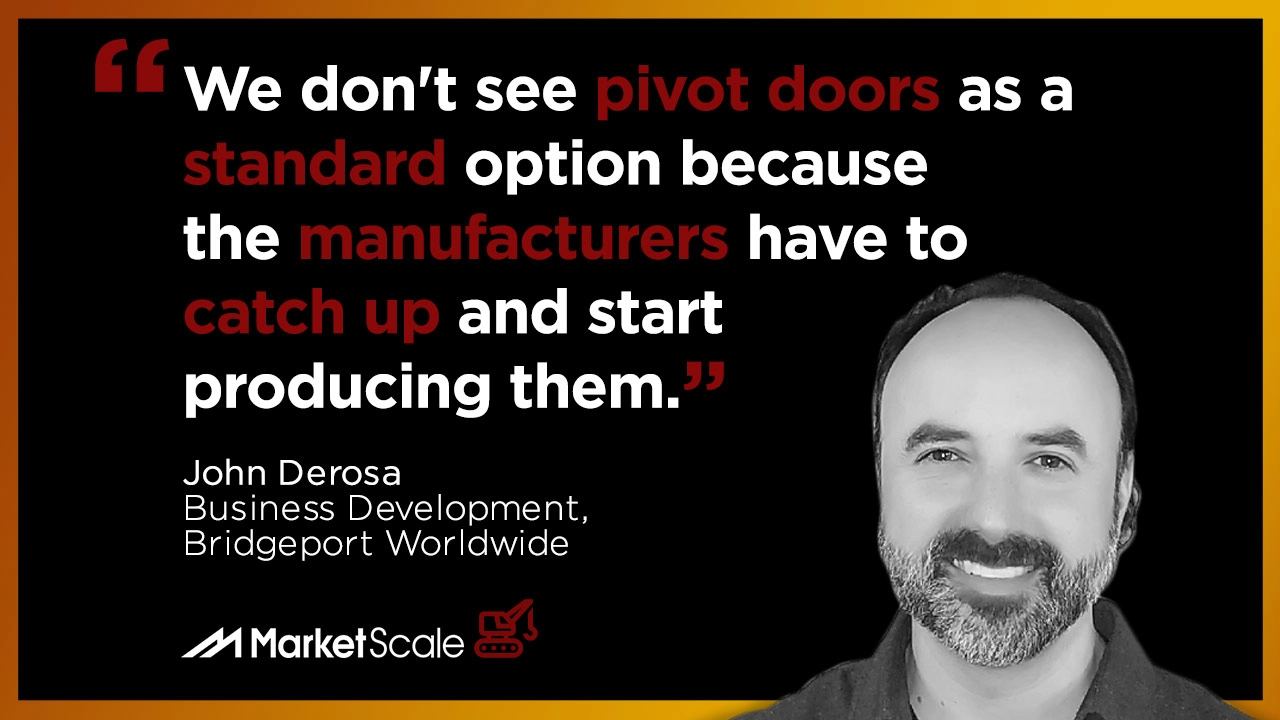 The first feature on our holiday sampler is an episode I did with John DeRosa, part of the Building Development team at Bridgeport Worldwide. We explored a design trend that feels new and innovate, but is older than it's more "traditional" counterpart: the pivot door. They've have around for millennia, with their first recorded use found in ancient Egypt, Greece and Rome. You've probably seen them in movies like Indiana Jones or TV shows like Atlanta as secret panel doors. They're not a new technology, but in the United States, seeing them as the front door of a home feels pretty new.
"Traditionally, pivot hardware has been used on commercial doors," DeRosa said. But what we're seeing now is with pivot hardware being advanced technologically that the pivot door is entering other worlds or other spaces of the building industry, specifically residential and more in commercial."
The trend is making it's way from across the seas, and with upgrades in installation technologies, manufacturers and designers are looking to pivot doors as the next upgrade for the traditional hinged door. America has been behind on pivot doors mostly because manufacturers haven't seen a need to integrate them into a classic portfolio. "What I found in my outreach to all these major manufacturers is that some of them, only a small handful of them actually already had a pivot door productized and they were selling it," DeRosa said. With FritsJurgens hardware and some quality education on the product, DeRosa has found a way to break through to the manufacturers and get them on the pivot door hype train.
JAPAN'S CONSTRUCTION CRISIS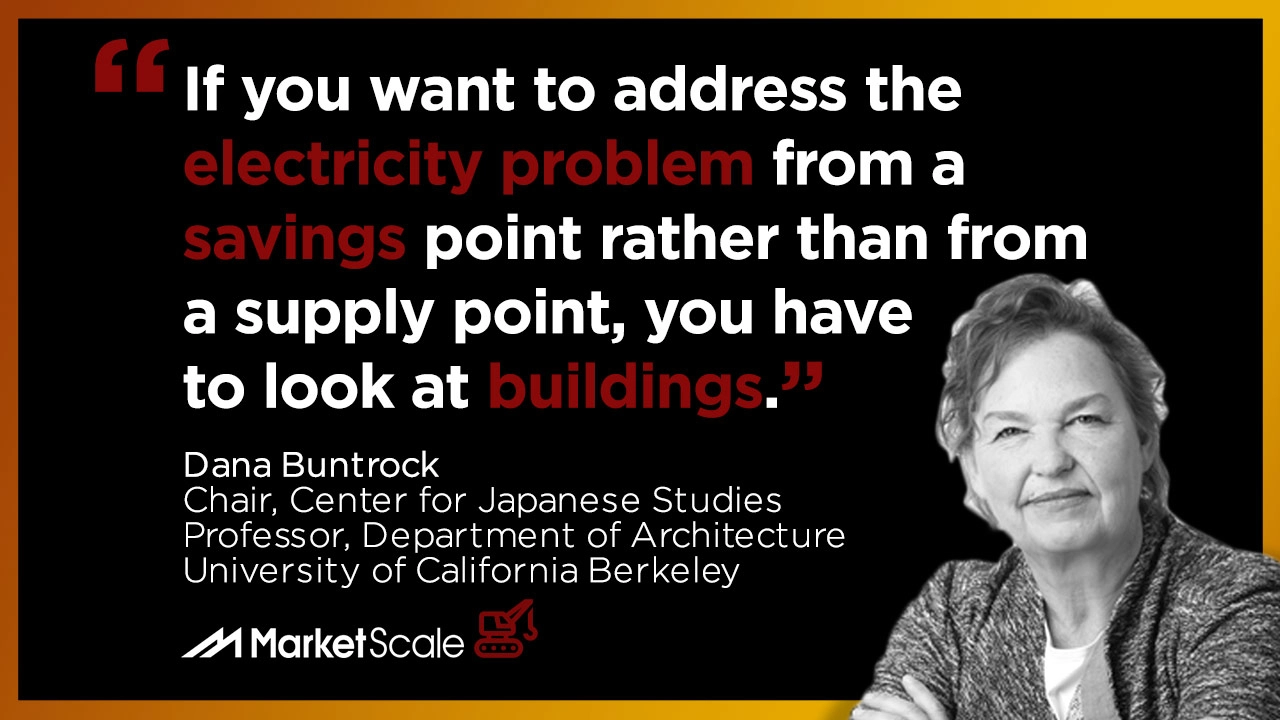 Next piece is an interview our host Sam Kingma did with Dana Buntrock, a professor of Architecture and Chair for Japanese Studies at the University of California Berkeley. Buntrock has dedicated her career to studying Japanese architecture and construction practices, publishing her first book on the topic after the 1995 Hanshin earthquakes devastated the country and forced it to reassess its design and engineering. In this podcast, Buntrock brought to light Japan's construction crisis, and how a country once known for innovative architecture is now leading in inefficiency.
Buntrock contributed to an ABE Global report titled Confronting Climate Change: What Can the US and Japan Contribute to Creating Sustainable Societies, and here, she detailed just how misguided the last 30 years of energy-driven economic policies have affected the Japan's architecture. Heating and cooling run day in and day out, while the building lack proper insulation to lower energy usage. Offices lack natural light, while facades of buildings gleam with inefficient glass. It's a trend that has risen Japan's electricity consumption to 65 percent of building energy usage.
Japan can still turn the ship around, Buntrock believes, but it'll take a healthy dose of effort. "These firms are really good and really competitive, but they also have really low fees," Buntrock said. "Developing new expertise take time and money." Japanese architects have neither; low fees means they're making less, and their time is almost fully devoted to the Tokyo 2020 Summer Olympics. Buntrock says the Olympics themselves, though, may be the catalyst that can put Japan's architecture back on an efficient track. Listen to Buntrock as she walks us through Japan's main unsustainable pitfalls, how their construction inefficiency affects climate change, and what it would take to fix the problem.
TRADITION VS. TRANSITION IN BUILDING DESIGN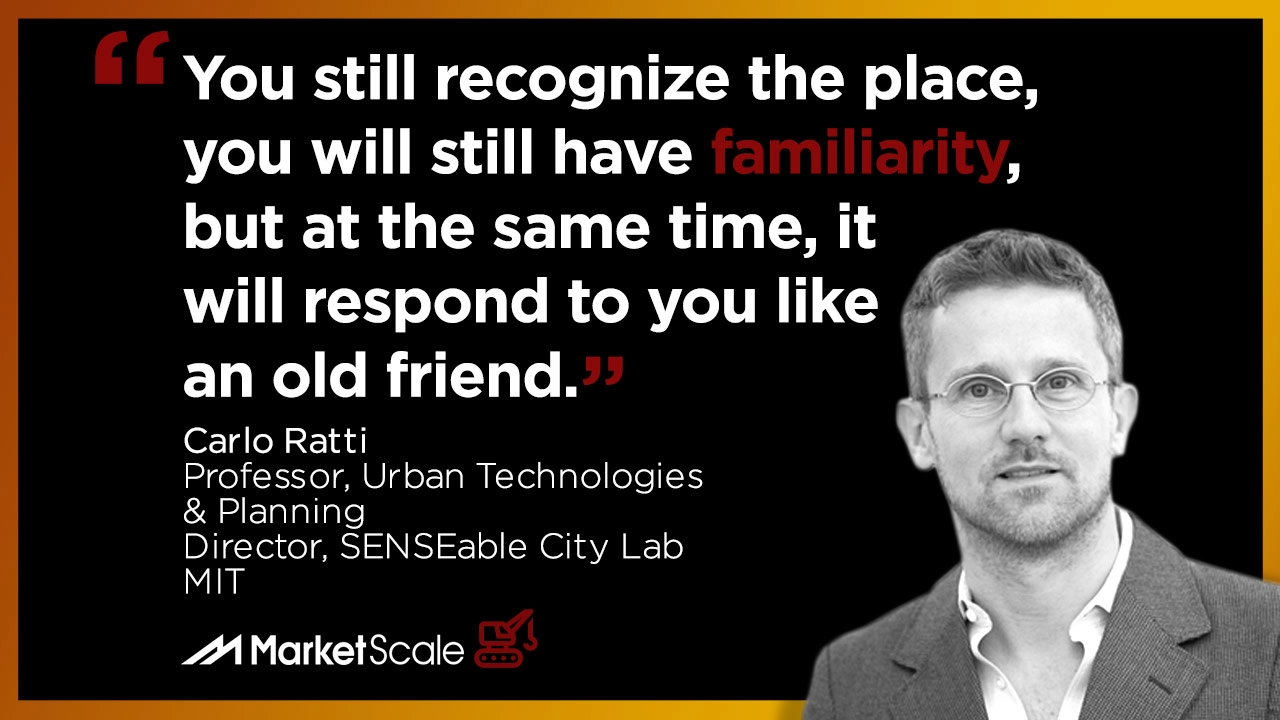 Our last feature is an interview with the well versed and innovative Carlo Ratti, Professor of Urban Technologies and Planning, and the Director of SENSEable City Lab for MIT. Ratti, a founding partner of his own design firm, co-author of more than 500 publications, has been recognized by publications like Wired, Esquire and TIME magazines as one of the brightest and most influential designers in the world. Perhaps the most intriguing thing about Ratti is the way he sees the city of tomorrow, one that uses technology to be flexible and familiar at the same time. Imagine a city street that can evolve from a congested through-way in the morning to a lunch plaza during the day, to a block party at night.
"It's like a mutation, a natural world, you got mutations and then simulation as successful and then they have an impact through replication," Ratti said. Cities are meant to stand the test of time, acting as "anchors against the time that flows," Ratti said, but even with that permanence, the future city is one that can actively respond to the needs of its citizens. He joined us on the podcast to analyze what makes a building more than a building, and how you don't need to compromise tradition to give your city the ability to transition.
OTHER ARTICLES REFERENCED
For the latest news, videos, and podcasts in the AEC Industry, be sure to subscribe to our industry publication.
Follow us on social media for the latest updates in B2B!
Twitter – @AECMKSL
Facebook – facebook.com/marketscale
LinkedIn – linkedin.com/company/marketscale
Latest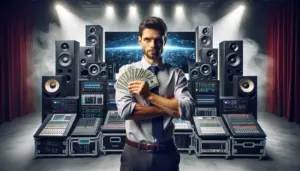 December 8, 2023
Mastering AV sales strategies in a global professional audio-visual (Pro AV) market, poised to reach $79.2 billion by 2028, requires much attention to detail. The surge in demand from corporate, government, and institutional sectors, driven by the need for enhanced productivity and efficient working environments, gives AV sales pros a lot of opportunity. In […]
Read More