NYCxDesign Boasts Another Successful Year
NYCxDesign, New York City's annual celebration of design, recently wrapped up a multiple weeklong event that showcased a host of products, designers, and pop-ups throughout the five boroughs of the city. The event is a massive collaboration between the New York City Economic Development Corporation, city agencies, city council, and a committee that includes of some of the city's most eminent design institutions, manufacturers, entrepreneurs, retailers, and educators.
Event goers were treated to a variety of events and panels, including a second round of the Designing Women panel from last year, titled Designing Women II: Masters, Mavericks and Mavens, to further the conversation about women's achieved success, trail-blazing and furthering their craft in the industry.
Another innovative education experience was held by Cooper Hewitt- showcasing methods that utilize sensory items to provide inclusive design, including using materials in a meaningful way for those with sensory disabilities. "The Senses: Design Beyond Vision" is still running through October 28th, with 65 design projects and more than 40 objects and installations to touch, hear, and smell, to celebrate of the sensory richness of design.
Sustainability was also a huge influence on many of the exhibitors and designers, featuring everything from furniture to lighting made from recycled materials. One such pop-up, called Zero Waste Bistro, featured an entire restaurant powered by waste-free, recycled design, from the tables to the walls to the cutlery. Helsinki based designer Linda Bergroth and furniture retailer Finnish Design Shop, created the exhibit to educate restauranteurs on creating a zero-waste business plan, and sourcing local ingredients to boost local economies.
The event culminated with the NYCxDESIGN Awards, which were announced on May 21 in a ceremony hosted by Interior Design and ICFF. Included in some of the award recipients were the Solar Canopy by Brooklyn Solar Canopy Company, The Connective Project by Reddymade Architecture & Design, Lumen by Jenny Sabin Studio and Focus Lighting, 1 Hotel Brooklyn Bridge by INC Architecture & Design, Marvel Architects, and Michael Van Valkenburgh Associates, and 1500 Broadway by Studios Architecture.
Latest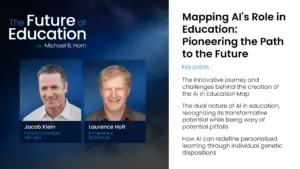 October 2, 2023
Mapping AI's role in education should be a critical step in bringing together innovative technology-based solutions with the expertise of human educators. With rapid advancements in artificial intelligence and an increased reliance on technology-driven educational solutions, the education landscape is on the brink of a significant transformation. AI promises highly personalized learning experiences, efficient administrative […]
Read More