Accelerating Texas K12 Education: The Future of K12 Education
Podcast host JW Marshall welcomed guest Dr. Melana Silvia, former curriculum Director of Pre-K through 12 Math and Science program for the Calallen Independent School District, Corpus Christi, TX to discuss the past, present, and future state of education on the popular podcast Accelerating Texas K12 Education.
Dr. Silvia spent 33 years in education with 24 of those years spent working at Calallen. She retired in 2021 and became a training consultant for teachers. While no longer in the school buildings influencing district decisions, Dr. Silvia continues to help others positively impact education while improving students' learning outcomes.
The discussion covered the breadth of challenges and opportunities brought on by the pandemic with a focus on how experiences and lessons learned will impact future generations. "Everyone struggled at the beginning, We didn't have the background knowledge or the equipment to set up to start doing virtual learning," Dr. Silvia noted.
She went on to discuss the challenges of returning to the classroom, virtual learning, technology, Texas House Bill 4545, and much more. Interestingly enough, one of the biggest challenges since returning is meeting the requirements of House Bill 4545 in a manner that truly helps students. What was surely intended to be helpful has placed a significant burden on teachers and administrators.
When asked about the future of students who thrived in a virtual environment, Dr. Silvia agreed that she personally knew "some families who thrived in the virtual setting." And "moving forward I really feel like there needs to be that option. I don't feel like it needs to be part of a public-school setting for every school district."
Latest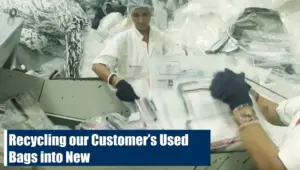 December 6, 2023
This video focuses on EcoLOK4, a groundbreaking product by CONTROLTEK that exemplifies innovation in sustainability. It highlights the process of transforming landfill waste into new deposit bags, with 90% of each bag's material being repurposed trash. This initiative not only reduces waste but also closes the sustainability loop, demonstrating CONTROLTEK's commitment to environmentally friendly […]
Read More