San Francisco Votes To Redevelop Moscone Convention Center's Garage
Moscone Convention Center's 732-space garage is getting a habitable facelift. The garage has consistently been at 53% capacity, and the city is looking for transform it into more revenue for the City of San Francisco by way of affordable housing and hotel accommodations. A vote on February 6th greenlit the project.
"We are trying to be creative in the use of the city's limited land, to see what property can be put to a higher and better use," says Daniel Adams, Deputy Director of the Mayor's Office of Housing and Community Development. "The public benefits of taking a single-use site like a parking lot and converting it to multiple uses, including housing, are multifaceted."[1]
Downtown area's rising costs in recent decades are driving out long-time residents and diverse populations, even though they are providing economic and social benefits for the community. By allotting affordable housing in these downtown spaces, the city can preserve diversity and create a greater return on investment.
Cassandra Costello, Vice President for Public Policy for San Francisco Travel adds her enthusiasm: "We think this is a welcome development for San Francisco. It will not only support the convention market but also create hotel jobs and affordable housing, something that will benefit workers in the hospitality industry."
Latest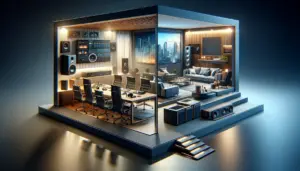 November 27, 2023
In this episode of "Pro AV Today," host Ben Thomas sits down with Audra Kinsley of Sonos Professional to unpack a topic that's causing (sound) waves in the audio industry: the fusion of commercial and residential audio systems. As we navigate through a landscape where consumer and professional audio worlds are increasingly intersecting, Sonos steps […]
Read More