Walker Zanger – One Stop Shop
Walker Zanger is a rich source for both trade professionals and homeowners searching for the right design style for their vision. With 13 curated showrooms and slab galleries and 200 authorized dealers nationwide, Walker Zanger is a valuable source for whole home design; a one-stop shop with a breadth of products – from inside to outside.
With beautiful hands-on slab boutiques and friendly and knowledgeable sales reps, it's the place to start and complete a project.
"Walker Zanger has a breadth of products that I can use for all areas of their home. From inside to outside, from kitchen to patio, from counter tops to tile. They're really a one stop shop for me." – Nishia Shubert ~ Designer @stayinteriors_la
Learn more at walkerzanger.com
Latest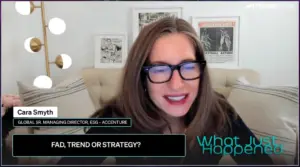 November 30, 2023
The world is in an era where sustainability and responsible retail business practices are increasingly crucial. For the latest episode of "What Just Happened," host Christine Russo further explored the hows and whys of this pressing issue by interviewing Cara Smyth, Global Senior Managing Director for ESG and Responsible Retail at Accenture, and Chair […]
Read More