Ferrero Rocher Installs Custom Golden Boon Edam Revolving Door at New Luxembourg Headquarters
Lillington, North Carolina, January 20, 2021 –  Boon Edam Inc., a global leader in security entrances and architectural revolving doors, today announced that Ferrero Rocher, a globally renowned chocolatier, has outfitted its new global headquarters building in Luxembourg with a "golden" TQA automatic revolving door. The unique color of the door provides a visual reference to the chocolatier's signature use of golden wrappers around each piece of chocolate. Aside from elevating their brand, Ferrero Rocher also installed a revolving door to provide a comfortable interior lobby for both employees and visitors.
Ferrero Rocher's headquarters building houses 1,300 employees in nearly 30,000 sq. meters. Employees were previously spread out over five buildings but are now centralized at one global headquarters building. The building design mimics the atmosphere of an Italian square through the use of a large atrium surrounded by two-multi-story office wings.
A Revolving Door Entry to Reflect a High-End Brand
General Contractor Felix Giorgetti, and Facade Builder Groven + Portal, commissioned Boon Edam to design a unique revolving door for the entrance to the Ferrero Rocher building, leading into an impressive interior atrium. Building designers included Ferrero's signature bronze/gold brand color into the facade and window surrounds. Boon Edam coordinated with and supported that design by customizing a 12-foot, TQA automatic revolving door with a custom, golden paint finish. With its automatic operation, employees and visitors can simply approach the door and it will start rotating on its own with no need to touch the door. The other benefit of this touchless entrance is its inherent ability to prevent infiltration of outdoor air, protecting the interior area from drafts, cold weather, debris and noise.
The Boon Edam TQA revolving door features a low-torque speed control, safety sensors, and endless finish options for a beautiful and easy-to-use public entry. Learn more by visiting our website at: https://www.boonedam.us/product/revolving-door/tq
Latest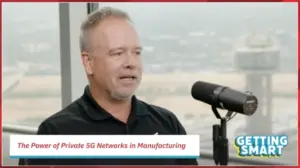 September 25, 2023
The Convergence of 5G and Automation in Manufacturing: A New Industrial Revolution The manufacturing industry stands at an inflection point. Advances in 5G technology and automation are coming together to transform the way products are made, and the role that humans and machines play in this process. Per Treven, Director of Business Development at Ericsson, […]
Read More