Former HOK CEO on Improving Green Design and Construction Efficiency
When it comes to building great buildings, we're just not there yet. There have been standards set in place, but it will take updated standards, better software, and better green standards.
Here to give insights to MarketScale is Patrick MacLeamy, FAIA International Chairman, buildingSMART International; CEO Emeritus, HOK.
Our building industry is way behind the times. When we compare the process of designing and constructing a building and then operating a building for its useful lifetime to that of automobiles and airplanes, the industry is unsophisticated, according to MacLeamy.
So, what do we do about it?
Twenty-five years ago, 12 companies in the U.S. decided to do something about it and formed what is now buildingSMART International, which set about to build international standards for open BIM or open, interoperable BIM standards.
"What it means is the software we all choose to work with will now be able to completely change information with other software through this interoperable layer," MacLeamy said. "That's the right way. That's what manufacturers have been doing for decades."
Under this way of operating, architects will have the freedom to choose the software they use, which will have checks and balances to make their design is compliant with codes, owner's requirements, budget, and perhaps, most notably with green requirements. With these new standards, there is the potential to go "deep green."
"If we do this properly, our buildings can be better, more efficiently designed and constructed," MacLeamy said.
Follow us on social media for the latest updates in B2B!
Twitter – @MarketScale
Facebook – facebook.com/marketscale
LinkedIn – linkedin.com/company/marketscale
Latest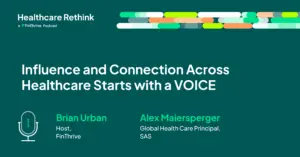 September 29, 2023
In the latest episode of the Healthcare Rethink podcast, presented by FinThrive, host Brian Urban sits down with Alex Maiersperger, the Global Principal Healthcare at SAS. Their conversation charts the role voice plays in influencing and connecting the healthcare industry. Maiersperger, who co-founded the Advancement League, shares his journey from being a healthcare optimist to […]
Read More