Galvanizing Applications: Agricultural Equipment
Life in agriculture can be tough. The days are long, the work is difficult, yet rewarding, and there are countless challenges that need to be consistently met head on and overcome. One thing a farmer shouldn't have to worry about, however, is their equipment, and the best way to protect it is by using galvanized steel.
Use Cases for Galvanized Steel in Agriculture
The simple answer is that almost anything on a farm or other agriculture operation can utilize galvanized steel.
It can be used for stronger tractor parts, trailers, irrigation systems, fencing, tools, animal pens, barns, storage facilities, and more. Just about anything that sees heavy use, especially in an outdoor environment, can and should benefit from the power of galvanized steel.
At Cherry Creek Systems, the company works closely with customers to design and execute custom systems for greenhouse applications, using hot-dip galvanization to protect versatile, but hollow, steel tubing that brings strength to these systems.
Galvanized solutions are also hygienic for use around animals and protect hollow parts and equipment in other areas of agricultural operations, such as conveyor castings, chains, supports, storage racks, irrigation equipment, refrigeration components to stand up to frigid temps and condensation, and much more.
In Agriculture, It's Not Just Rust that Threatens Equipment
Other than the ever-present threat of rust and corrosion, equipment is exposed to other dangers, as well. Powerful storms and gusting winds fling debris at structures, machinery and fences, causing dents and more serious damage.
Frequent use of equipment causes wear and tear, and extreme or changing temperatures can be dangerous, as well. The toughened zinc alloy coating of galvanized steel protects it from all of these things, repelling debris, shielding from abrasions, and maintaining overall structural integrity through the most extreme conditions.
Protecting the Budget
At first glance it might seem like all this extra protection makes galvanized steel a much more expensive investment than regular steel. However, not only is galvanized steel comparably priced, it also saves money down the road.
The sturdiness of galvanized steel means it doesn't need repairing or maintaining as often as other materials. That means less money spent on repairs and less downtime caused by maintenance. The abrasion-resistant surface makes it easier to clean and paint, and the rust-proof nature means it can go decades without needing to be replaced or patched up.
Toughen Up
Everybody should be aware of what they're getting when choosing the best tools for the job. In almost every case, those tools are made with galvanized steel. The agriculture life will always be tough, but there's no reason that equipment shouldn't be up to the task.
To learn more, contact AZZ today.
Latest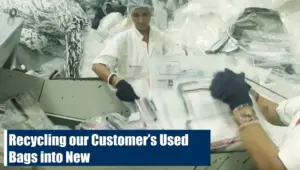 December 6, 2023
This video focuses on EcoLOK4, a groundbreaking product by CONTROLTEK that exemplifies innovation in sustainability. It highlights the process of transforming landfill waste into new deposit bags, with 90% of each bag's material being repurposed trash. This initiative not only reduces waste but also closes the sustainability loop, demonstrating CONTROLTEK's commitment to environmentally friendly […]
Read More