JLL CEO Christian Ulbrich Predicts Repurposing and Market Consolidation in Commercial Spaces
JLL Chief Executive Officer Christian Ulbrich says the emergence from the Covid-19 pandemic will cause a significant amount of consolidation in the real estate and investment management industries. Watch above or read an excerpt from the interview below.
—
Host: What can we learn from, especially, I guess, in Asia, where we are seeing reopening a little bit ahead of the curve of the rest of us, but what might we be tracking to in the rest of the world?
Ulbrich: Well, I mean, the most important piece is that people are feeling really safe and comfortable to get back into the office and the office itself plays an important role. But obviously also how they get to the office, so public transportation is playing an important part. That's why you see also major differences within the US already where people are driving with their own car to the office. They're much more open to get back into the office than in places like Manhattan or downtown Chicago. But overall, you know, technology will help us to give people that feeling of safety in the office. We can measure densification. We can measure where we have to send a special cleaning team in and a lot of tools are available. Measure the air quality, which all of those are available to make people feel comfortable in the office.
Host: Christian, how much thought are you putting into swapping out some of the properties that you manage or at least changing them to some other type of purpose? I don't know. Storage seems to be a big one these days.
Ulbrich: Well, obviously, when you have city center office buildings, there will be clearly demand post the pandemic. What is more challenging is the question around hotels going forward. We believe that business travel will be impacted longer term and will be at much lower levels, even post pandemic. And so you will see a lot of repurposing of hotels, which were more focused on business travel rather than on tourism. And for those, you will see repurposing. And then the other big areas, obviously, retail space. Retail has been in a transformational period already before the pandemic. And that is now being accelerated. Retail is a question of experience and convenience. And and if it's more convenient to buy your goods online, you will do so. And if you want to have an experience, you will go shopping at a shopping center to come downtown. But the amount of space we need for the experience shopping will be significantly less than what we have seen five years ago.
Host: Where do you think we are in the consolidation trend in this industry, do you expect to see a lot more of it?
Ulbrich: Well, any kind of economic crisis is usually an accelerator of consolidation, and so we will now coming out of that crisis in 2021, we will see a significant amount of consolidation in our industries as we will see it in other industries.
Host: So, Christian, I mentioned storage a moment ago, but it does seem like there's a lot of interest in warehouses and industrial space. You can see is basically in New York City. And some of the outer Boroughs. What happens there? Does that kind of space become a bubble at some point?
Ulbrich: Well, I mean, as long as you're online, buying goods from people is continuing to strive and grow, as it has been over the last couple of years, there's clearly a need for more logistics space and especially for the last mile space. And therefore, we will see that trend continuing probably for the foreseeable years that we need more modern space, especially. At the moment because of the shortage of distribution space, we are also using distribution centers, which are not really state of the art, and they will be then replaced by newly built distribution centers, which are much more productive.
*Bloomberg contributed to this article
Latest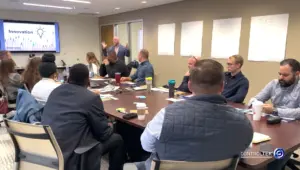 December 4, 2023
The video captures highlights from the CONTROLTEK Design Thinking Workshop specifically tailored for Burlington Stores. It shows interactive sessions, engaging group activities, and innovative brainstorming, emphasizing CONTROLTEK's commitment to developing customized retail solutions in collaboration with the Burlington Stores team.
Read More